Aomori / Hirosaki 2-Day Trip
Suggested Time

2 days / 1 nights
Transport Options

Train, Bus, Walk
Season

All year around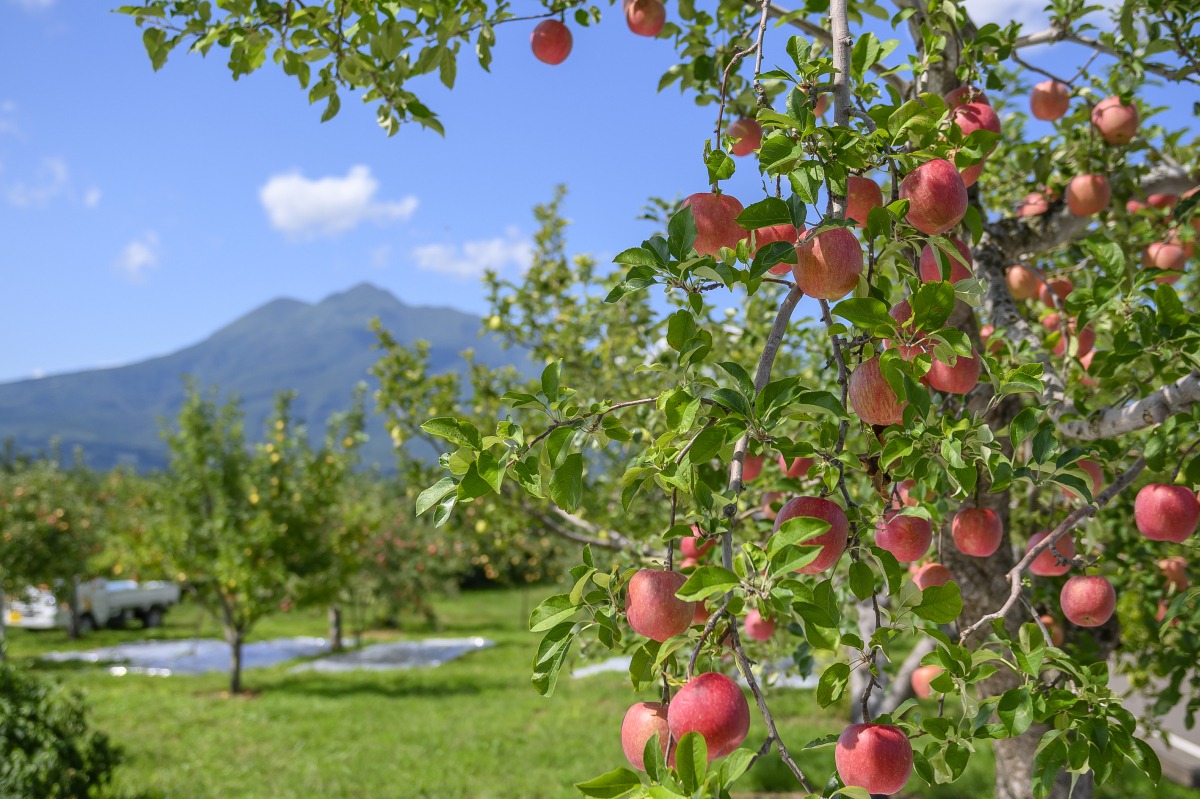 Visit the famous tourist sites in the two large cities!
Departing from Aomori city, go to Goshogawara and Tsugaru's West Coast. In Ajigasawa, visit Shirakamino no Mori Yuzan Road and the Senjojiki coast, and then head to the Tsugaru Quasi-National Park Lake Juniko area. From there, head towards the Nishimeya area adjacent to the World Natural Heritage Area, and then, go to Hirosaki and Akita.
Start
Day1
Furukawa Fish Market Nokke-don
For those looking for a bite around Aomori station, look no further. The "Nokke-don" at the local's kitchen, Aomori Gyosai Center (also known as Furukawa Fish Market), is a must-eat. Nokke-don, which literally means a rice bowl with toppings, is a dish allowing customers to pick toppings from the wide selection to place on top of rice. Whether you want to try a variety of things or enjoy both seafood and meat, it is the ultimate rice dish for choosy eaters.
How to Enjoy Your Original Don
Do you want to try rare ingredients and dishes? Done. Or do you want to eat your favorites as much as possible? Done. Customers can make their original-don with the wide selection of product within the market.
1. Buy a ticket at the Information Desk or one of the selected shops.
2. Go to a shop with the orange flag and get a bowl of rice in exchange with the ticket.
3. Find your toppings and make your don with your preferred choice of ingredients and amount. There is a wide selection of sashimi, meat, and side dishes.
4. Your Original-don is ready! Enjoy your don at the rest area of the market.
*Take-out or shipping of the Nokke-don is not available.
Address

青森市古川1-11-16

Telephone Number

017-763-0085

Opening Times

Nokke-don Hours: 7:00 ~ 16:00 *Each shop hour varies.

Closures

Every Tuesday
January 1st – 2nd
*Possible unscheduled temporary closure.
Aomori Tourist Information Center, ASPAM
A bayside landmark packed with Aomori souvenirs
This waterfront facility has a distinctive triangular building modeled after the "A" in "Aomori" and is beautifully lit up at night.
Lured in by the mouthwatering aroma of freshly baked apple pie, you will find the first floor packed with delicious Aomori specialties ranging from local sake to sweets. Fresh apples are also sold in abundance when in season.
The second floor is the "Interactive Zone." The 360-degree panoramic movie theater shows immersive 3D digital video of the Nebuta Festival. You can also watch a demonstration of Kogin-zashi embroidery, a traditional craft that showcases the fine skill and fortitude developed by women living in this harsh northern region.
There is an observatory on the thirteenth floor where you can enjoy a 360-degree view from a height of 51 meters of surroundings such as downtown Aomori, the port, and the Hakkoda Mountains. On clear days, you may even be able to see as far as Hokkaido.
◆ The name "ASPAM" is an abbreviation for "Aomori" "Sightseeing" "Products" "Mansion."
Address

青森市安方1-1-40

Telephone Number

017-735-5311

Opening Times

8:30 a.m. to 7:00 p.m. (as of July 2022)

*Operating hours inside the building vary by shop and season, but many shops are open from 9:00 a.m. to 6:00 p.m.


Closures

December 31; some closures for inspection of onsite facilities
Aomori City Culture Tourist Exchange Facility, The Nebuta House Wa Rasse
A Nebuta exhibition facility where visitors can experience the Nebuta Festival all year round.
Nebuta Museum Wa Rasse is an exhibition facility for the Aomori Nebuta Festival, one of the most famous summer festivals in Aomori Prefecture. You can learn about the production techniques and history of Nebuta. In the Nebuta Hall, large Nebuta that were actually used in the festival are displayed. There is also a corner where you can try your hand at matsuri-bayashi (festival music), beating a big drum and jumping around to the music.
Address

青森市安酸1-1-1

Telephone Number

017-752-1311

Opening Times

May-August: 09:00 - 19:00, last admission 18:30
September to April: 09:00 to 18:00, last admission 17:00

Closures

December 31 and January 1
August 9 and 10 (replacement of Nebuta on display)
A-FACTORY
A-FACTORY, located a short 1-minute walk from Aomori Station, is a duty-free, market-style shopping center that sells local products such as sweets, processed goods, fresh vegetables and fruits. The most featured facility at A-FACTORY is the apple cidre (cider) factory, which produces cidre and juices onsite using Aomori grown apples.
AOMORI CIDRE
Cidre (Cider) is a refreshing and delicate European sparkling alcoholic beverage made from the juice of apples. Given that Aomori is Japan's top apple producer, A-FACTORY crafts all its cidres with locally grown apples. Visitors can observe the process of cidre production through glass windows with a factory tour and purchase tasting cards to enjoy the fresh flavors.
Featured Facilities
1st Floor
In addition to the Cidre Factory and local products market, the first floor also includes restaurants serving a variety of cuisines, such as sweets, including tarts and gelato, hamburger steak using Aomori beef, and Japanese style rice bowls with fresh tuna.
2nd Floor
The second floor has an event space and a specialty shop that sells galette, a French-style crusty cake made with buckwheat. This cake pairs excellently with A-FACTORY's cidre.
Address

青森市柳川1-4-2

Telephone Number

017-752-1890

Opening Times

Shopping: 9:00~20:00
1F Restaurants: 11:00~20:00
2F Restaurants: 11:00~21:00

Closures

Irregular
Day2
Hirosaki City Apple Park
Fun for the whole family at a park where visitors can try picking their own apples
A gorgeous park populated by ample apple trees
Address

弘前市清水冨田字寺沢125

Telephone Number

0172-36-7439

Opening Times

9:00 a.m. to 5:00 p.m. (Visitors can still walk around the park outside of business hours.)

Apple picking: early August to mid-November (35 yen per 100 grams)
Tsugaru Clan Neputa Village
A hands-on sightseeing facility based on the theme of the Hirosaki Neputa Festival.
Tsugaru-han Neputa Mura is a tourist spot where visitors can experience a quasi-Hirosaki Neputa Festival. The fan-shaped Neputa actually used in the festival are exhibited for viewing. Visitors can also try the taiko (Japanese drums) along with the Neputa musicians themselves. Live Tsugaru-shamisen performance are also open for viewing.
There is a facility for visitors to see, experience, and buy Tsugaru traditional artwork, with shops selling local produce such as vegetables, apples, and rice.
Address

弘前市亀甲町61

Telephone Number

0172-39-1511

Opening Times

09:00 to 17:00

Closures

None
Hirosaki Park
The park is famous as one of the top cherry blossom viewing spots in Japan.
Hirosaki Park is a vast park located in the center of Hirosaki City. The park is home to 2,000 cherry trees and attracts visitors from all over the world during the Hirosaki Cherry Blossom Festival held in spring. In addition to the Autumn Foliage Festival in autumn and the Snow Lantern Festival in winter, various events for local residents are held throughout the year, making this park a beloved symbol of the community.
Address

弘前市大字下白銀町一番地

Telephone Number

0172-33-8739

Opening Times

09:00 to 17:00

Closures

11/24 to 3/31
Aomori Bank Memorial Hall (Former main branch of the 59th National Bank)
This was the first national bank established in 1879, and the 59th national bank in Japan. The bank was relocated to Oyakata-machi in 1904. This is the building that was constructed in the new location, designed by Sakichi Horie. Horie was a leading expert in the field of western-style construction, who also designed Osamu Dazai's birth home, the Shayokan Museum. The building is a Renaissance style western building with decorative tower that was also used as observatory. At the tip of the tower is a decoration, the kind found on temples in India. The building is designated important intangible cultural heritage.
Address

弘前市元長町26

Telephone Number

0172-33-3638
Goal