Historical 2-Day Trip
Suggested Time

2 days / 1 nights
Transport Options

Train, Bus, Walk
Season

All year around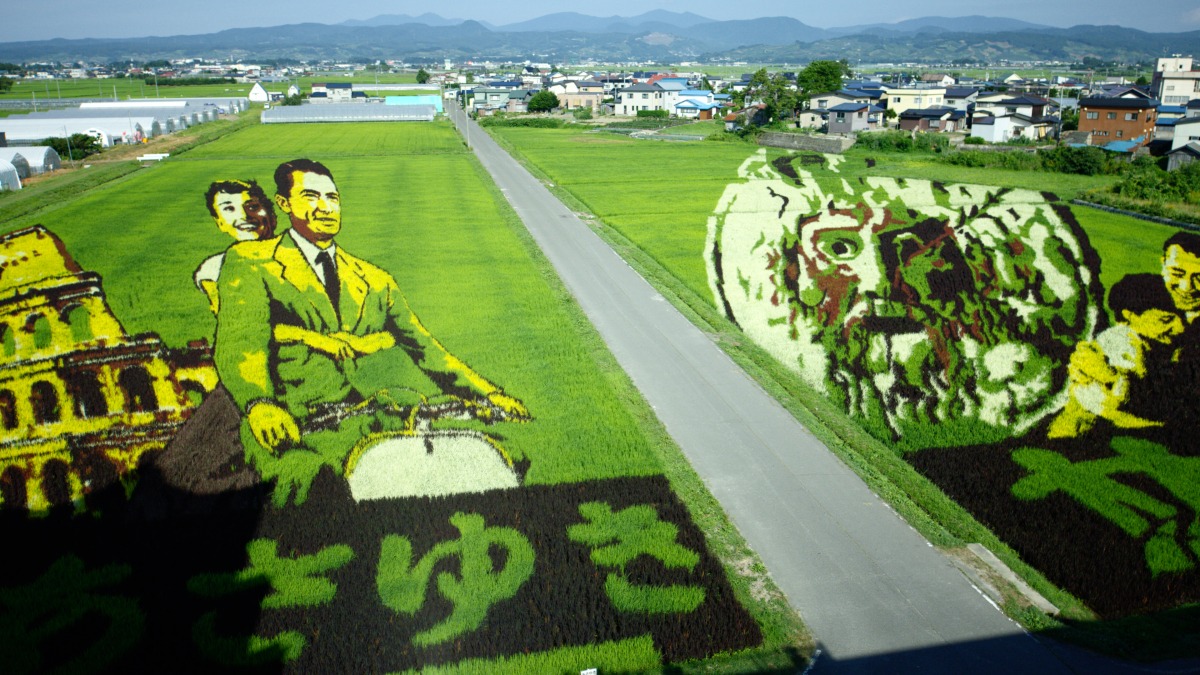 Experience the world before the Common Era.
Tour around Aomori's cultural, and historical sites.
Among Aoyama's historical sites include the Sannai-Maruyama site, which is presumably over 4,000 year old, as well as samurai abodes from the Edo Period, and a large number of Western-style buildings from the Meiji Period.
Having much to offer in terms of historical heritages, the region is also famous for having a wide variety of art museums and fun workshops. Let's go back in time to the ancient era in Aomori!
Start
Day1
Rice Paddy Art -Inakadate Village-
The rice paddy art began in 1993 when purple and yellow rice plants were used to make a picture of Mt. Iwaki along with letters on rice paddies. The main purpose behind the creation was to take advantage of the tradition of manual work in rice cultivation to give people an opportunity to learn more about rice farming and agriculture.
The rice paddy art uses various colored rice plants as paint on a rice-field canvas. The massive pictures are elaborately designed using perspective drawing methods to make them look their best when seen from the observation platform. The art has gained media attention from domestic and international media because of its uniqueness. Every year, over 100,000 visitors from Japan and abroad come to see the fields, including the Emperor and Empress of Japan in September, 2014.
Rice Making Experience Tour
[Rice Planting Tour Beginning of June]
Fee:Free (lunch provided)
*Please come dressed in clothing appropriate for manual labor. (Prior registration is required)
[Rice Harvesting Tour End of September]
Fee: Free (Onigiri (rice ball) and tonjiru (pork miso soup) are provided)
*Please come dressed in clothing appropriate for manual labor. (Prior registration is required)
[Inakadate-mura Planning Tourism Division, Chamber of tourism section]
TEL 0172-58-2111(ext.242)
FAX 0172-58-4751
e-mail muraokoshi@vill.inakadate.ig.jp
Address

南津軽郡田舎館村田舎舘中辻123−1 田舎館村役場(田舎館村展望台)

Telephone Number

0172-58-2111

Opening Times

9:00~17:00(Last Admission 16:30)(Beginning of June ~ mid-October)

Closures

Open on weekends and holidays during the rice paddy art event.
Komise
Komise along Naka-Machi Ave., selected one of the best 100 streets in Japan, features an arcaded shopping area with traditional structures remaining from the Edo Period.
Komise was made as an arcaded street to keep snow and rain out, which is characteristic of the snowy northern parts of Japan. Buildings along Naka-Machi Ave. have been particularly well-preserved.
Address

黒石市大字中町、浦町2丁目、大字甲徳兵衛町、大字横町の各一部

Telephone Number

0172-52-2111
Former Hirosaki City Library
This library was built to commemorate victory in the Japanese-Russo War in 1906 and was used as city library until 1931. It is a 3-story wooden mortar building with twin octagonal towers constructed in Renaissance style.
Address

弘前市下白銀町2-1

Telephone Number

0172-37-5505

Opening Times

9:00 a.m. - 4:30 p.m.

Closures

December 28th to January 3rd
Tsugaru Clan Neputa Village
A hands-on sightseeing facility based on the theme of the Hirosaki Neputa Festival.
Tsugaru-han Neputa Mura is a tourist spot where visitors can experience a quasi-Hirosaki Neputa Festival. The fan-shaped Neputa actually used in the festival are exhibited for viewing. Visitors can also try the taiko (Japanese drums) along with the Neputa musicians themselves. Live Tsugaru-shamisen performance are also open for viewing.
There is a facility for visitors to see, experience, and buy Tsugaru traditional artwork, with shops selling local produce such as vegetables, apples, and rice.
Address

弘前市亀甲町61

Telephone Number

0172-39-1511

Opening Times

09:00 to 17:00

Closures

None
Marutomi Kawasaki Indigo Dye Factory
Traditional Japanese dyeing in a 200-year-old building
Let's try traditional dyeing with indigo!
Address

弘前市亀甲町63

Telephone Number

0172-35-6552

Opening Times

09:00-17:00 (winter 9:00-16:00)

Closures

Thursdays
Day2
Hakkoda Ropeway
A magnificent view of Mt. Hakkoda in all seasons.
The Hakkoda Ropeway is located in the Towada-Hachimantai National Park and operates throughout the year. The autumn leaves season and the winter ice season are especially popular.
Address

青森市荒川字寒水沢1-12

Telephone Number

017-738-0343

Opening Times

09:00 to 16:20 (March to early November)
09:00 to 15:40 (mid-November to late February)

Closures

11/8 to 11/13 Machine Maintenance Inspection
Sannai-Maruyama Historical Site
Sannai-Maruyama Historical Site is one of Japan's largest historical sites consisting of remains of human settlement from approximately 5500 to 4000 years ago. The site features several pit-houses and stilt-houses unearthed since archeological excavation began in 1992. The excavation has also uncovered various earthenware and stoneware artifacts, as well as those composed of jade and skillfully created lacquer. These findings were of great significance as it provided us with a new image of the Jomon culture.
In 1994, Aomori Prefecture decided to preserve the site upon consideration of the site's historical significance. In November 2000, Sannai-Maruyama Historical Site was designated as a National Special Historical Site of Japan.
Nominating the Jomon Historical Sites for a World Heritage Site
In addition to Sannai-Maruyama Historical Site, there are many historic sites from the Jomon period demonstrating Jomon culture throughout Hokkaido and northern Tohoku area. Considering the historical and cultural significance of the sites that must be preserved for future generations, there is currently a plan to nominate the Jomon Historic Sites in Hokkaido and Northern Tohoku for World Heritage Site.
Learning about the Jomon Culture
At the Sannai-Maruyama Historical Site, within the Jomon Jiyukan (Park Center), visitors can view artifacts from the excavation site on display. Additionally, visitors can try their hand at craftwork inspired by Jomon culture. English speaking volunteer guides attend to help upon reservation.
Address

青森市三内丸山305

Telephone Number

017-781-6078

Opening Times

・Jomon Jiyukan (Park Center) 9:00~17:00 
*Open until 18:00 during Golden Week and the period of June 1st to September 20th
・Hokusaikan (Souvenir Shop) 9:00~17:00
・Restaurant 
(May-October) Food 11:00~15:00, Drinks 10:30~17:00
(November-April) Food 11:00~14:00, Drinks 10:30~16:30
*Opening hours may change due to special events.

Closures

・December 30th- January 1st
・Other designated days for site maintenance
Aomori Museum of Art
The origin of Tohoku's art!
The museum located within Sannai-Maruyama Historical Site features Japanese, Western, as well as modern art such as works by Yoshitomo Nara. The museum also has masterpieces such as Chagall's works on permanent display!
Address

青森市安田字近野185

Telephone Number

017-783-3000

Opening Times

09:30-17:00 (admission until 16:30)

Closures

The second and fourth Monday of every month
Year-end and New Year holidays
Goal