Winter travel route
Suggested Time

2 days / 1 nights
Transport Options

Drive
Season

Winter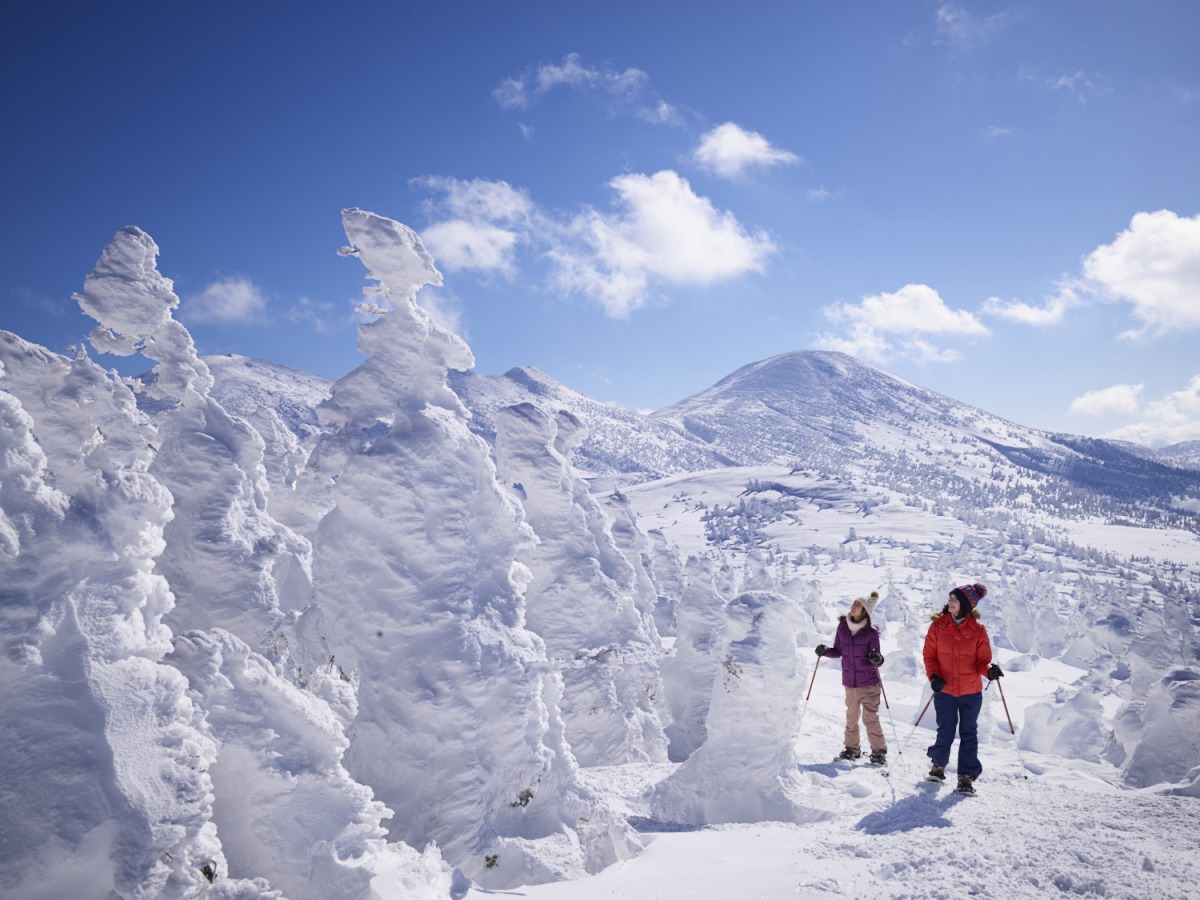 Hakkoda Ropeway ~ (View soft rime…Trees that endured heavy snow and strong wind on Hakkoda mountains transform into beautiful soft rime) Minamida Onsen (Apple bath…A lodging facility in the Apple Kingdom of Tsugaru overlooking the Hakkoda mountains to the East and Iwaki mountains to the West. The sweet and sour aroma envelopes your body) Goshogawara Tachi-Neputa-no-Yakata (Tachi-neputa standing 22 meters high, equivalent to 4-storey building, is on display. This is a compelling site!) Stove Train (coal stoves burn brightly warming the train against the chilly temperature outside. Dried squid and mochi are grilled on top of the stove) Snow drift experience (Feel the strong wind and drifting snow so strong that it would prevent you from opening your eyes.)
Start
Day1
Hakkoda Ropeway
A magnificent view of Mt. Hakkoda in all seasons.
The Hakkoda Ropeway is located in the Towada-Hachimantai National Park and operates throughout the year. The autumn leaves season and the winter ice season are especially popular.
Address

青森市荒川字寒水沢1-12

Telephone Number

017-738-0343

Opening Times

09:00 to 16:20 (March to early November)
09:00 to 15:40 (mid-November to late February)

Closures

11/8 to 11/13 Machine Maintenance Inspection
Minamida Onsen Hotel Apple Land
Minamida Onsen Hotel Apple Land is located in Hirakawa city of Minami Tsugaru. The hot spring water composition is rare for the Tohoku region and is categorized as weak alkali hot spring. With a strong water flow directly from the source, the apple outdoor bath and apple foot bath (April ~ November) are gaining popularity.
At the "Tsugaru Shokudo Ya-ya do" (Tsugaru style restaurant), guests can savor local cuisine. The most popular feature is the noresore-don served at breakfast, which allows guests to add any topping to their bowl of rice. Every guest room has been decorated to preserve the wa Japanese atmosphere and ikebana (Japanese flower arrangement) is arranged by the hostess. As a special service, there are apples grown in Aomori in every room's refrigerator as a gift. The free shuttle to and from JR Hirosaki Station makes Minamida Onsen Hotel a very convenient lodging choice for travelers in Tsugaru.
Hot Spring Water Composition / Salt Spring (Hypotonic weak alkali high temperature spring)
Hot Spring Benefits / Nerve pain, muscle pain, cuts, burns, chronic skin diseases, weak child, chronic female disorders
Apple Bath All Year Round
At Apple Land, guests can enjoy apple bath all year round instead of only during the harvest season.
Apple bath is said to have good effects on our skin, and the delicate apple scent relaxes bathers' mind and body.
In addition to the apple bath, there is the large bath "Hyoukanoyu", the bamboo charcoal bath "Manten no furo", the cypress bath (for reservations only) "Towada" and "Oirase", and the apple foot bath "Miashinoyu."
Address

平川市町居南田166-3

Telephone Number

0172-44-3711

Opening Times

[One Day Onsen]
Large bath "Hyoukanoyu" 10:00~15:00(Final Admittance 14:00)
Middle bath "Manten no furo" 13:00~21:00(Final Admittance 20:30)
Cypress bath (for reservations only) Monday-Friday 15:00~23:30(Final Admittance 22:30)

Weekend/Holiday 10:00~3:00(Final Admittance 22:30)
*Reservations can be made in 1-hour segments

Apple foot bath 9:00~21:00 *Outdoors. Open April ~ November.

[Check-in] 15:00~19:30
[Check-out] ~10:00

Closures

None
Day2
Tachineputa no Yakata (Tachineputa Museum)
Goshogawara Tachineputa Festival is one of the four largest summer festivals held between August 4th and 8th. At the Tachineputa no Yakata, three real tachineputa are exhibited. The three neputa begin their parade from the museum.
The exhibition hall is an atrium with an incline around the 23-meter (75 feet) tachineputa so visitors can see it from top to down. Footage from the festival is shown at the exhibition hall. Additionally, visitors can see the making of the tachineputa at the production studio.
The gallery of the museum holds paintings from artists with connection to Aomori. The museum also has a souvenir shop, a restaurant, an observation lounge, and an experiencing room where visitors can make kingyo neputa (goldfish neputa).
Experiencing the Making of Tachineputa
At the Tachineputa production studio, visitors can experience making the tachineputa, including pasting the paper and coloring. Applications can be made on the day of the visit.
*Available for a limited time (Mid-April to Mid-June)
*Advance reservation required for groups larger than 10 people.
Address

五所川原市大町506-10

Telephone Number

0173-38-3232

Opening Times

9:00~21:00
[Tachineputa Exhibition Hall/Art Gallery]
(April~September) 9:00~19:00, (October~March) 9:00~17:00
*Special Hours
August 4th ~ 8th 9:00~17:00, August 13th 9:00~19:00, December 31st 9:00~15:00

Closures

January 1st (May be open. Contact us for details)
Tsugaru Railway, Stove Winter Train
The Tsugaru Railways run through the plains for Tsugaru peninsula from Tsugaru Goshogawara Station to Tsugaru Nakazato Station, a 45 minute ride with a total distance of 20.7 km (12.8 miles). The railway runs seasonal themed trains throughout the year for the entertainment of its passengers: the stove train in the winter, the furin (Japanese wind bell) train in the summer, and the suzumushi (bell cricket) train in the fall.
The tranquil rural landscape that can be seen from the train attracts many visitors. The Ashino Park (near Ashino Park Station) is another popular spot during the cherry blossom season.
Winter Stove Train, a Special Social Event
Every year, an old-fashioned potbelly stove gains a spot on the train that runs through the snow field of Tsugaru plain. The red burning coals in the stove create a comfortable social atmosphere bringing visitors and local passengers together.
In contrast to the frigid outdoor cold, passengers can enjoy their time in the warm cozy train as surume (dried squid and cuttlefish) are prepared on the stove top and served.
*Limited 3 trains during daytime. Check for specific dates for December.
Train service may change under some circumstances.
Address

五所川原市

Telephone Number

0173-34-2148

Opening Times

[Furin Summer Train] July 1st – August 31st annually
[Suzumushi Autumn Train] September 1st – mid October (time may change due to the growth of bell crickets)
[Stove Winter Train] December 1st – (the following year) March 31st annually

Closures

None
Snow Country Drifting Snow Tour
This unique program is a way for visitors to experience the fierce drifting snow of the frozen Tsugaru region of Aomori prefecture. Drifting snow, fallen snow wisping in the strong winds, is a well-known feature of Tsugaru region. The drifting snow can be of such an intensity that once it begins, it becomes difficult to see one's own path. This rare tour has turned the troublesome drifting snow into a fascinating local experience.
The Snow in Tsugaru Strikes from Below
Visitors can become familiar with Tsugaru culture by going on the tour while wearing a traditional winter clothe called "Kakumaki" or riding the wide snow field of Tsugaru plains on a horse sleigh. If requested in advance, visitors can also fly a Tsugaru tako (kite). This tour has gained popularity domestically and internationally.
Phone Number:Tsugaru Jifubuki-kai Office 080-3195-4036(9:00~17:00)
Address

五所川原市

Telephone Number

080-3195‐4036

Opening Times

Every Friday through Sunday, end of January to the end of February
*Reservation must be made at least five days in advance. 
Goal