Aomori-Hirosaki-World Natural Heritage Site 3-Day Tour
Suggested Time

3 days / 2 nights
Transport Options

Train, Bus, Walk
Season

All year around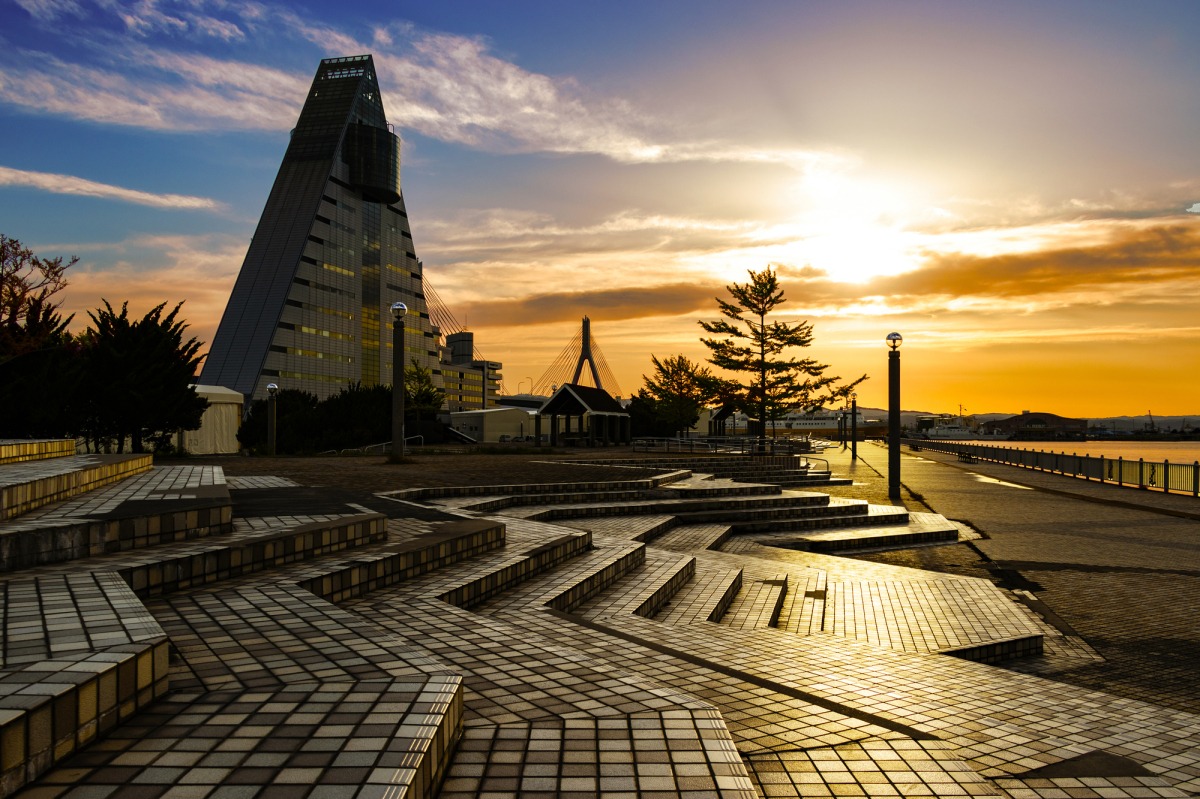 Start
Day1
Konan Railway Hirosaki Sta.
25min
Tanbo Art Sta.
11min
Free Shuttle Bus
Rice Paddy Art -Inakadate Village-
The rice paddy art began in 1993 when purple and yellow rice plants were used to make a picture of Mt. Iwaki along with letters on rice paddies. The main purpose behind the creation was to take advantage of the tradition of manual work in rice cultivation to give people an opportunity to learn more about rice farming and agriculture.
The rice paddy art uses various colored rice plants as paint on a rice-field canvas. The massive pictures are elaborately designed using perspective drawing methods to make them look their best when seen from the observation platform. The art has gained media attention from domestic and international media because of its uniqueness. Every year, over 100,000 visitors from Japan and abroad come to see the fields, including the Emperor and Empress of Japan in September, 2014.
Rice Making Experience Tour
[Rice Planting Tour Beginning of June]
Fee:Free (lunch provided)
*Please come dressed in clothing appropriate for manual labor. (Prior registration is required)
[Rice Harvesting Tour End of September]
Fee: Free (Onigiri (rice ball) and tonjiru (pork miso soup) are provided)
*Please come dressed in clothing appropriate for manual labor. (Prior registration is required)
[Inakadate-mura Planning Tourism Division, Chamber of tourism section]
TEL 0172-58-2111(ext.242)
FAX 0172-58-4751
e-mail muraokoshi@vill.inakadate.ig.jp
Address

南津軽郡田舎館村田舎舘中辻123−1 田舎館村役場(田舎館村展望台)

Telephone Number

0172-58-2111

Opening Times

9:00~17:00(Last Admission 16:30)(Beginning of June ~ mid-October)

Closures

Open on weekends and holidays during the rice paddy art event.
11min
Free Shuttle Bus
Tanbo Art Sta.
6min
Kuroishi Sta.
+ 10min Walk
5min
Kuroishi Sta.
30min
Hirosaki Sta.
15min (Konan Bus Dote-machi Loop Bus)
Bunka Center (Culture Center) Stop
+ 8min Walk
Tsugaru Clan Neputa Village
A hands-on sightseeing facility based on the theme of the Hirosaki Neputa Festival.
Tsugaru-han Neputa Mura is a tourist spot where visitors can experience a quasi-Hirosaki Neputa Festival. The fan-shaped Neputa actually used in the festival are exhibited for viewing. Visitors can also try the taiko (Japanese drums) along with the Neputa musicians themselves. Live Tsugaru-shamisen performance are also open for viewing.
There is a facility for visitors to see, experience, and buy Tsugaru traditional artwork, with shops selling local produce such as vegetables, apples, and rice.
Address

弘前市亀甲町61

Telephone Number

0172-39-1511

Opening Times

09:00 to 17:00

Closures

None
8min
Hirosaki Park(Hirosaki Castle)
The park is famous as one of the top cherry blossom viewing spots in Japan.
Hirosaki Park is a vast park located in the center of Hirosaki City. The park is home to 2,000 cherry trees and attracts visitors from all over the world during the Hirosaki Cherry Blossom Festival held in spring. In addition to the Autumn Foliage Festival in autumn and the Snow Lantern Festival in winter, various events for local residents are held throughout the year, making this park a beloved symbol of the community.
Address

弘前市大字下白銀町一番地

Telephone Number

0172-33-8739

Opening Times

09:00 to 17:00

Closures

11/24 to 3/31
4min
Shiyakusyomae Stop
20min
Hirosaki City Apple Park
Fun for the whole family at a park where visitors can try picking their own apples
About 5.2 hectares in area, this park is home to as many as 2,300 apple trees representing about 80 varieties. Enjoy apple picking and many other facilities that allow visitors to fully experience the unique deliciousness of this famous apple-producing region.
Visitors can try picking their own apples at the "Production Experience Orchard" from August 1 to mid-November. There's nothing like the taste of freshly picked apples! However, be sure to check before visiting, as the apple-picking season varies depending on growing conditions. Visitors can also freely stroll the orchard paths and glimpse beautiful views of Mount Iwaki beyond the orchard.
The "Apple House" sells about 1,200 different apple-related products, including unique apple-themed local crafts and sweets. The café offers delicacies such as apple curry, apple sundaes, and apple cider. Cider tasting at Hirosaki Cider Factory Kimori is also recommended.
Facilities such as the playground and picnic area are popular with families.
The park also contains the Former Osanai Family Residence, a reproduction of a former farmhouse with old farming equipment on display. In addition, on weekends and holidays from April to November, visitors can listen to old folktales of the Tsugaru region recounted in the local dialect.
Address

弘前市清水冨田字寺沢125

Telephone Number

0172-36-7439

Opening Times

9:00 a.m. to 5:00 p.m. (Visitors can still walk around the park outside of business hours.)

Apple picking: early August to mid-November (35 yen per 100 grams)
7min
20min
JR Hirosaki Sta.
Day2
JR Hirosaki Sta.
50min (Konan Bus Shirakami Line)
Nishimeyamura Yakuba-mae Stop
+ 10min Walk
Sirakami-Sanchi Visitor Center
10min
Nishimeyamura Yakuba-mae Stop
50min (Konan Bus Shirakami Line)
Aqua Green Village ANMON
Enjoy nature in this vast virgin beech tree forest. Facilities include cottages, a fishing hole, woodcraft center (Tontenkan), a camp site, Wanpaku Toride (athletic playground for children) and ANMON hot springs.
ANMON Onsen
After a day's stroll through the Shirakami Sanchi, ANMON hot spring bath at Aqua Village ANMON makes the perfect stop. Soak yourself in an open air bath with a great view of Shirakami Sanchi and relax to your hearts content.
Quality:Sodium chloride water
Effective for: Arthritis, muscle ache, joint ache, burn, chronic skin disease, etc.
Hours:10:00 a.m.–5:00 p.m.
Address

中津軽郡西目屋村川原平字大川添417

Telephone Number

0172-85-3021

Opening Times

Late May–October
40min
Shirakami Sanchi Kuchi Tsugaru Toge
World Heritage Site, Shirakami Sanchi
Shirakami Sanchi is a general term used to refer to the massive 130,000ha (501 square miles) mountainous land extended over Aomori and Akita prefecture. In December 1993, it became the first Japanese World Heritage Site along Yakushima in Kagoshima prefecture. There are only four natural heritage sites in Japan: Shirakami Sanchi of Aomori and Akita; Yakushima of Kagoshima; Shiretoko of Hokkaido; and Ogasawara Islands of Tokyo.
Shirakami Sanchi has been sheltered from human influence, maintaining its original shape with massive primeval beech trees. The forests of Shirakami Sanchi are home to precious rare animals and plants such as black woodpeckers and golden eagles.
Enjoying the Nature of Grand Shirakami Sanchi
In the towns of Fukaura or Ajigasawa, and the village of Nishimeya there are a few of the entrances to the forests of Shirakami Sanchi in Aomori. Visitors can climb mountains, trek through the beech forest, or meet locals around Shirakami Sanchi. This type of green tourism where visitors meet with nature and people is gaining popularity.
Some popular locations for visiting the Shirakami Sanchi are the Anmon Waterfall in Nishimeya-mura, the mother tree of Tsugaru Toge (Tsugaru pass), the Kurokuma Waterfall in Ajigasawa, and Lake Juniko in Fukaura.
Shirakami Sanchi Visitor Center
Visitors can learn about the natural environment of Shirakami Sanchi and its relation with people.
Address
61-1 Kanda Tashiro Nishimeya-mura Nakatsugaru-gun Aomori-ken 036-1411
Contact
0172-85-2810
Dates Closed
April through December – Every second Monday (the following day when it falls on a holiday)
December 29th to January 3rd
Admission Fee
Free(There is a charge for viewing large screen films)
URL
(Japanese)https://www.shirakami-visitor.jp/index.html
AquaGreenVillage ANMON
This facility has a general information center, onsen (hot spring), cottages, camp sites, and large play areas.


Address

西目屋村 鰺ヶ沢町 深浦町

Telephone Number

0172-85-2622
130min
JR Hirosaki Sta.
Short Walk
Hirosaki Station Building, APPLIESE
JR Hirosaki Sta.
10min
JR Owani Onsen Sta.
+ 1min Walk
"Wanicome" – Owani Community Center
Day3
JR Owani Onsen Sta.
12min
JR Hirosaki Sta.
50min
JR Aomori Sta.
+ 5min Walk
Furukawa Fish Market Nokke-don
For those looking for a bite around Aomori station, look no further. The "Nokke-don" at the local's kitchen, Aomori Gyosai Center (also known as Furukawa Fish Market), is a must-eat. Nokke-don, which literally means a rice bowl with toppings, is a dish allowing customers to pick toppings from the wide selection to place on top of rice. Whether you want to try a variety of things or enjoy both seafood and meat, it is the ultimate rice dish for choosy eaters.
How to Enjoy Your Original Don
Do you want to try rare ingredients and dishes? Done. Or do you want to eat your favorites as much as possible? Done. Customers can make their original-don with the wide selection of product within the market.
1. Buy a ticket at the Information Desk or one of the selected shops.
2. Go to a shop with the orange flag and get a bowl of rice in exchange with the ticket.
3. Find your toppings and make your don with your preferred choice of ingredients and amount. There is a wide selection of sashimi, meat, and side dishes.
4. Your Original-don is ready! Enjoy your don at the rest area of the market.
*Take-out or shipping of the Nokke-don is not available.
Address

青森市古川1-11-16

Telephone Number

017-763-0085

Opening Times

Nokke-don Hours: 7:00 ~ 16:00 *Each shop hour varies.

Closures

Every Tuesday
January 1st – 2nd
*Possible unscheduled temporary closure.
10min
Aomori Tourist Information Center, ASPAM
A bayside landmark packed with Aomori souvenirs
This waterfront facility has a distinctive triangular building modeled after the "A" in "Aomori" and is beautifully lit up at night.
Lured in by the mouthwatering aroma of freshly baked apple pie, you will find the first floor packed with delicious Aomori specialties ranging from local sake to sweets. Fresh apples are also sold in abundance when in season.
The second floor is the "Interactive Zone." The 360-degree panoramic movie theater shows immersive 3D digital video of the Nebuta Festival. You can also watch a demonstration of Kogin-zashi embroidery, a traditional craft that showcases the fine skill and fortitude developed by women living in this harsh northern region.
There is an observatory on the thirteenth floor where you can enjoy a 360-degree view from a height of 51 meters of surroundings such as downtown Aomori, the port, and the Hakkoda Mountains. On clear days, you may even be able to see as far as Hokkaido.
◆ The name "ASPAM" is an abbreviation for "Aomori" "Sightseeing" "Products" "Mansion."
Address

青森市安方1-1-40

Telephone Number

017-735-5311

Opening Times

8:30 a.m. to 7:00 p.m. (as of July 2022)

*Operating hours inside the building vary by shop and season, but many shops are open from 9:00 a.m. to 6:00 p.m.


Closures

December 31; some closures for inspection of onsite facilities
5min
Aomori City Culture Tourist Exchange Facility, The Nebuta House Wa Rasse
A Nebuta exhibition facility where visitors can experience the Nebuta Festival all year round.
Nebuta Museum Wa Rasse is an exhibition facility for the Aomori Nebuta Festival, one of the most famous summer festivals in Aomori Prefecture. You can learn about the production techniques and history of Nebuta. In the Nebuta Hall, large Nebuta that were actually used in the festival are displayed. There is also a corner where you can try your hand at matsuri-bayashi (festival music), beating a big drum and jumping around to the music.
Address

青森市安酸1-1-1

Telephone Number

017-752-1311

Opening Times

May-August: 09:00 - 19:00, last admission 18:30
September to April: 09:00 to 18:00, last admission 17:00

Closures

December 31 and January 1
August 9 and 10 (replacement of Nebuta on display)
Short Walk
A-FACTORY
A-FACTORY, located a short 1-minute walk from Aomori Station, is a duty-free, market-style shopping center that sells local products such as sweets, processed goods, fresh vegetables and fruits. The most featured facility at A-FACTORY is the apple cidre (cider) factory, which produces cidre and juices onsite using Aomori grown apples.
AOMORI CIDRE
Cidre (Cider) is a refreshing and delicate European sparkling alcoholic beverage made from the juice of apples. Given that Aomori is Japan's top apple producer, A-FACTORY crafts all its cidres with locally grown apples. Visitors can observe the process of cidre production through glass windows with a factory tour and purchase tasting cards to enjoy the fresh flavors.
Featured Facilities
1st Floor
In addition to the Cidre Factory and local products market, the first floor also includes restaurants serving a variety of cuisines, such as sweets, including tarts and gelato, hamburger steak using Aomori beef, and Japanese style rice bowls with fresh tuna.
2nd Floor
The second floor has an event space and a specialty shop that sells galette, a French-style crusty cake made with buckwheat. This cake pairs excellently with A-FACTORY's cidre.
Address

青森市柳川1-4-2

Telephone Number

017-752-1890

Opening Times

Shopping: 9:00~20:00
1F Restaurants: 11:00~20:00
2F Restaurants: 11:00~21:00

Closures

Irregular
2min
5min
JR Aomori Sta.
20min
Aomori Museum of Art
A museum where you can experience first-rate contemporary art works
The Aomori Museum of Art exhibits works by Shiko Munakata, Yoshitomo Nara, Toru Narita, and other artists associated with Aomori Prefecture. The distinctive building of the museum was designed with inspiration from the adjacent World Heritage Site of Sannai-Maruyama, and the building itself is highly regarded as a work of art. In the "Aleko Hall", a huge space in the center of the museum, the background paintings of the ballet "Aleko" by Marc Chagall are exhibited in cooperation with the Philadelphia Museum of Art. Yoshitomo Nara's huge three-dimensional work, "Aomori Dog," is one of the museum's most famous pieces.
Address

青森市安田字近野185

Telephone Number

017-783-3000

Opening Times

09:30-17:00 (admission until 16:30)

Closures

The second and fourth Monday of every month
Year-end and New Year holidays
10min
Sannai-Maruyama Historical Site
Sannai-Maruyama Historical Site is one of Japan's largest historical sites consisting of remains of human settlement from approximately 5500 to 4000 years ago. The site features several pit-houses and stilt-houses unearthed since archeological excavation began in 1992. The excavation has also uncovered various earthenware and stoneware artifacts, as well as those composed of jade and skillfully created lacquer. These findings were of great significance as it provided us with a new image of the Jomon culture.
In 1994, Aomori Prefecture decided to preserve the site upon consideration of the site's historical significance. In November 2000, Sannai-Maruyama Historical Site was designated as a National Special Historical Site of Japan.
Nominating the Jomon Historical Sites for a World Heritage Site
In addition to Sannai-Maruyama Historical Site, there are many historic sites from the Jomon period demonstrating Jomon culture throughout Hokkaido and northern Tohoku area. Considering the historical and cultural significance of the sites that must be preserved for future generations, there is currently a plan to nominate the Jomon Historic Sites in Hokkaido and Northern Tohoku for World Heritage Site.
Learning about the Jomon Culture
At the Sannai-Maruyama Historical Site, within the Jomon Jiyukan (Park Center), visitors can view artifacts from the excavation site on display. Additionally, visitors can try their hand at craftwork inspired by Jomon culture. English speaking volunteer guides attend to help upon reservation.
Address

青森市三内丸山305

Telephone Number

017-781-6078

Opening Times

・Jomon Jiyukan (Park Center) 9:00~17:00 
*Open until 18:00 during Golden Week and the period of June 1st to September 20th
・Hokusaikan (Souvenir Shop) 9:00~17:00
・Restaurant 
(May-October) Food 11:00~15:00, Drinks 10:30~17:00
(November-April) Food 11:00~14:00, Drinks 10:30~16:30
*Opening hours may change due to special events.

Closures

・December 30th- January 1st
・Other designated days for site maintenance
Goal