Tsugaru West Coast & Tsugaru Peninsula 3-Day Tour
Suggested Time

3 days / 2 nights
Transport Options

Train, Drive, Bus
Season

All year around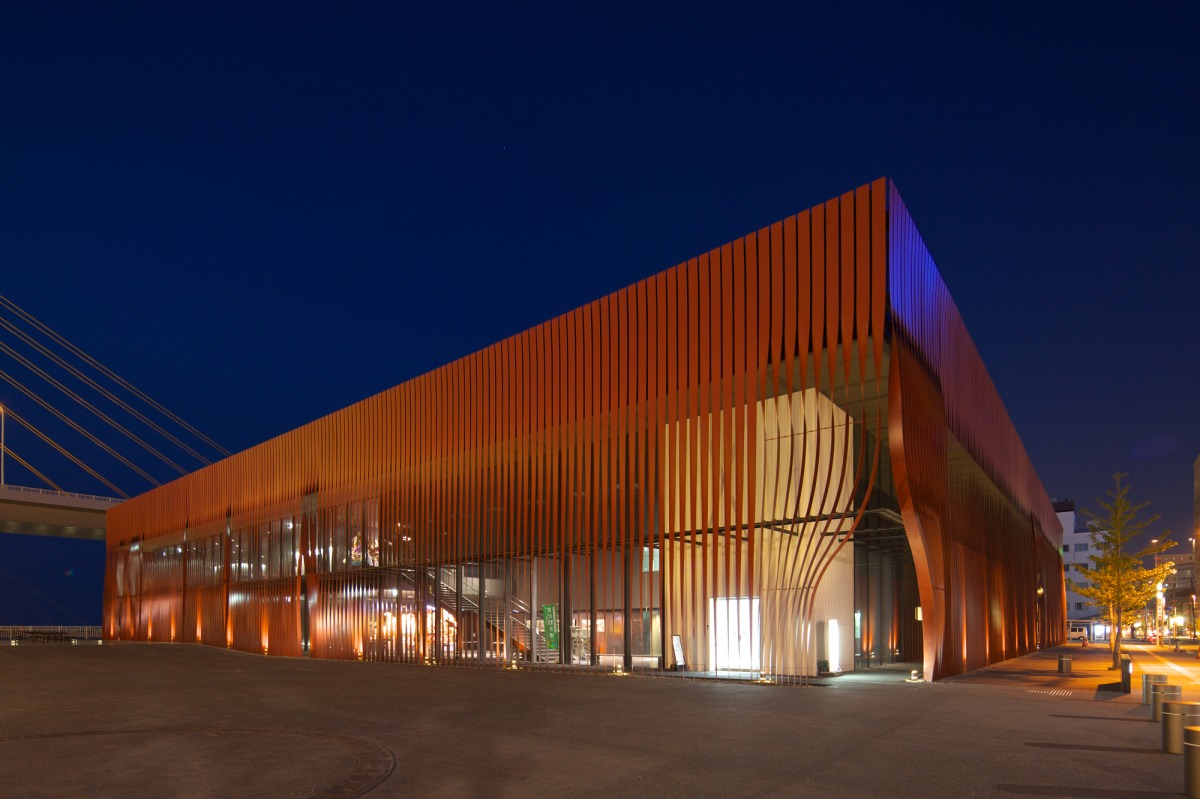 Start
Day1
JR Shin-Aomori Sta.
70min
JR Goshogawara Sta.
5min
Tachineputa no Yakata (Tachineputa Museum)
Goshogawara Tachineputa Festival is one of the four largest summer festivals held between August 4th and 8th. At the Tachineputa no Yakata, three real tachineputa are exhibited. The three neputa begin their parade from the museum.
The exhibition hall is an atrium with an incline around the 23-meter (75 feet) tachineputa so visitors can see it from top to down. Footage from the festival is shown at the exhibition hall. Additionally, visitors can see the making of the tachineputa at the production studio.
The gallery of the museum holds paintings from artists with connection to Aomori. The museum also has a souvenir shop, a restaurant, an observation lounge, and an experiencing room where visitors can make kingyo neputa (goldfish neputa).
Experiencing the Making of Tachineputa
At the Tachineputa production studio, visitors can experience making the tachineputa, including pasting the paper and coloring. Applications can be made on the day of the visit.
*Available for a limited time (Mid-April to Mid-June)
*Advance reservation required for groups larger than 10 people.
Address

五所川原市大町506-10

Telephone Number

0173-38-3232

Opening Times

9:00~21:00
[Tachineputa Exhibition Hall/Art Gallery]
(April~September) 9:00~19:00, (October~March) 9:00~17:00
*Special Hours
August 4th ~ 8th 9:00~17:00, August 13th 9:00~19:00, December 31st 9:00~15:00

Closures

January 1st (May be open. Contact us for details)
15min
Tsugaru Kanayama-yaki
New Traditional Crafts of Aomori Prefecture
Purchase authentic pottery crafted with high quality local clay at Tsugaru Kanayama-yaki. This pottery is characterized by its rustic touch, which potters achieve by firing the pieces unglazed at temperatures as high as 1,360 degrees in kilns with red pine lumber. This method of pottery making is called Yakishime.
Address

五所川原市金山字千代鶴5-79

Telephone Number

0173-29-3350

Opening Times

09:00 - 17:00

Closures

Stores: open daily
Restaurant: Closed in winter from November to March
15min
Tsugaru Goshogawara Sta.
Tsugaru Railway, 20min
Kanagi Sta.
7min
Shayokan: Dazai Osamu Memorial Museum
This is a roof purline building built by Gen-emon Tsushima (Osamu Dazai's father), who was a large landowner during the Meiji Era. Work was completed in June 1907. Cypress wood was used for all structures, including the rice storehouse. It has 11 rooms with an approximate area of 917 square meters on the first floor, and 8 rooms with an approximate area of 383 square meter on the 2nd floor. It is a grand mansion extending over an area of approximately 2244 square meters, with attached buildings and a Japanese garden with ponds.
Address

五所川原市金木町朝日山412-1

Telephone Number

0173-53-2020

Opening Times

May - October: 8:30 a.m. - 6:00 p.m. (Admission until 5:30 p.m.)
November - April: 9:00 a.m. - 5:00 p.m. (Admission until 4:30 p.m.)

Closures

December 29th
7min
Kanagi Sta.
Tsugaru Railway, 20min
Tsugaru Goshogawara Sta.
1min
JR Goshogawara Sta.
7min
JR Mutsu Tsuruta Sta.
10min
Tsuru-no-Mai Bridge
Tsuru-no-Mai Bridge passes over the Tsugaru Fujimi Lake with a reflection of Mt. Iwaki. The bridge, with total length of the bridge is 300 meters, is the Japan's longest triple arch wooden bridge. It was built using more than 700 Aomori Hiba, especially those of over 150-year old, for bridge girder by Japan's architectural technique from old days.
The bridge view looks like as if crane is flying with background of Mt Iwaki. Also it is said that visitors who walks across the bridge will have a long life.
Address

北津軽郡鶴田町鶴田町廻堰字大沢

Telephone Number

0173-22-2111
10min
JR Mutsu Tsuruta Sta.
Resort Shirakami, 22min
JR Ajigasawa Sta.
Day2
15min
Uminoeki Wando
Sightseeing facility with a rich selection of locally made goods and seasonal ingredients
Address

西津軽郡鰺ヶ沢町西津軽郡鰺ヶ沢町大字本町246-4

Telephone Number

0173-72-6661
15min
JR Ajigasawa Sta.
Resort Shirakami, 20min
Senjojiki Coast
Senjojiki Coast, facing to the Sea of Japan, is a bedrock beach formed with the uplifting of land due to an earthquake in 1792. The rock shelf of approximately 12 kilometers, on which the lord of the area had 1,000 tatami mats laid out for a party, sweeps along the coast.
Visitors can enjoy the view from JR's resort train "Resort Shirakami", which will slow down when it comes to close the coast.
The view at sunset time is magnificent and is selected as one of the "100 best sunsets in Japan".
Address

西津軽郡深浦町北金ケ沢

Telephone Number

0173-74-4412

Opening Times

The beach season starts beginning of July and lasts until middle of August. *Depending on weather, schedule is subject to change.
Resort Shirakami, 45min
Free Shuttle Bus, 5min
Koganezaki Furofushi Onsen Hotel
The ultimate feeling of liberation in a gourd-shaped outdoor bath right on the seashore!
Soaking in this outdoor bath right on the seashore is a unique experience that you won't find anywhere else! The best time to enjoy it is at sunset, when the sky gradually takes on a reddish tinge and the crimson evening sun slowly sinks below the horizon. Gazing at this spectacular sight while soaking in the bath is the ultimate in luxury. Since the seaside outdoor bath is only open to day visitors until 4:00 p.m., when the sun is still high in the sky, an overnight stay is recommended to fully enjoy this luxury. The dinner with plenty of locally caught seafood is another draw.
In addition to the gourd-shaped outdoor bath, which is mixed sex, there is also a round outdoor bath for women only. When including the indoor baths for men and women respectively, there are four baths in total, all of them 100% natural hot-spring baths with water flowing fresh and untreated from the source.
The name of the hot spring comes from the Japanese word furofushi meaning "immortality," derived from the local saying that "anyone who enjoys the benefits of these waters will never grow old or sick." Due to oxidation of its iron content, the water is such a dark reddish brown that the bottom is not visible. Since this distinctively colored water is so rich in iron and salt, it will warm you from the inside out, keeping you from feeling chilly after bathing.
Address

西津軽郡深浦町大字舮作字下清滝15

Telephone Number

0173-74-3500

Opening Times

Day visits:
8:00 a.m. to 8:00 p.m.

The seaside outdoor bath closes at 4:00 p.m. (last entry at 3:30 p.m.).

Closures

None
Free Shuttle Bus, 5min
JR Wespa Tsubakiyama Sta.
15min
JR Juniko Sta.
15min
Lake Juniko (Twelve Lakes) /Aoike Pond
The Tsugaru Quasi-National Park, Lake Juniko (Twelve Lakes), is a collective name for 33 lakes and ponds that extend over an area of 4 square km (1.5 square miles) on an undulating plateau, with an altitude that ranges from 150 meters (492 feet) to 250 meters (820 feet). Although there are 33 ponds and lakes, the area is called Juniko (Twelve Lakes) because only twelve bodies of water can be seen from Mt. Okuzure's summit.
Juniko likely formed during the Edo period when a major earthquake blocked a mountain stream, causing it to expand into the present collection of lakes and ponds. Today, the area features walking trails and a campsite, making it a popular place for hiking, camping, nature sightseeing, and mountain climbing.
Aoike –Mystical Natural Beauty
Aoike is a remarkable lake renowned for its seemingly artificial, though completely natural, vibrant blue waters. The clear water, with a visibility of 9 meters (29 feet), offers visitors enchanting views of withered beech trees lying submerged in the cobalt water. The reason for its blue color is still unknown, adding to the lake's mysterious allure. The best season to view the lake is from spring to summer when the area's foliage is lush and green. The sight of Aoike glittering in tree-filtered sunlight is a truly breathtaking sight.
Juniko Visitor Center (Juniko Information Site)
The Juniko Visitor Center, located within Juniko Station, has many informational brochures about the area and also includes local produce shops, souvenir shops, coin lockers and temporary baggage storage areas.
Address JR Juniko Station Grounds, 33-1 Shita-Hamamatsu Matsukami, Fukaura Town, Nishitsugaru District, Aomori Prefecture 038-2206
Contact 0173-77-3000
Hours of Operation 9:00-17:00 (Beginning of April – Mid November)
Closed End of November to end of March
Admission Fee Free
Kyororo, the forest shop
Kyororo is a helpful facility for Shirakami Sanchi/Juniko sightseeing as it includes local produce sales, a snack shop, and parking (paid). The facility is conveniently located across from the Oku-Juniko Parking Bus Stop and is only a 10-minute walk away from Aoike.
Address Within Matsukamisan-Kokuyurin, Fukaura Town, Nishitsugaru District, Aomori Prefecture 038-2206
Contact 0173-77-2781
Hours of Operation 8:00-18:00(April to November)
Closed December to March
Admission Fee Free
URL (Japanese)http://www.shirakami-jyuniko.jp/kyororo/kyororo.html
Trekking Guide
Fukaura Town's residents volunteer as trekking guides and happily show visitors the area while providing information about Mt. Shirakami and the wildlife and history of Lake Juniko.
Fees
Lake Juniko Trekking (April–November)
Amount of Time: 1–3 hours 1 Guide ¥10,000
Mt. Okuzure Hiking (May–October)
Amount of Time: 4 hours 1 Guide ¥20,000
*Other options are also available.
*For visitors in wheelchairs, we offer special assistance. 1 Staff ¥5,000~
Contact: Shirakami Juniko Co., Ltd. TEL:0173-77-3311 FAX:0173-77-2681
Address

西津軽郡深浦町松神下浜松

Telephone Number

0173-74-4412
Day3
Aomori City Culture Tourist Exchange Facility, The Nebuta House Wa Rasse
A Nebuta exhibition facility where visitors can experience the Nebuta Festival all year round.
Nebuta Museum Wa Rasse is an exhibition facility for the Aomori Nebuta Festival, one of the most famous summer festivals in Aomori Prefecture. You can learn about the production techniques and history of Nebuta. In the Nebuta Hall, large Nebuta that were actually used in the festival are displayed. There is also a corner where you can try your hand at matsuri-bayashi (festival music), beating a big drum and jumping around to the music.
Address

青森市安酸1-1-1

Telephone Number

017-752-1311

Opening Times

May-August: 09:00 - 19:00, last admission 18:30
September to April: 09:00 to 18:00, last admission 17:00

Closures

December 31 and January 1
August 9 and 10 (replacement of Nebuta on display)
1min
A-FACTORY
A-FACTORY, located a short 1-minute walk from Aomori Station, is a duty-free, market-style shopping center that sells local products such as sweets, processed goods, fresh vegetables and fruits. The most featured facility at A-FACTORY is the apple cidre (cider) factory, which produces cidre and juices onsite using Aomori grown apples.
AOMORI CIDRE
Cidre (Cider) is a refreshing and delicate European sparkling alcoholic beverage made from the juice of apples. Given that Aomori is Japan's top apple producer, A-FACTORY crafts all its cidres with locally grown apples. Visitors can observe the process of cidre production through glass windows with a factory tour and purchase tasting cards to enjoy the fresh flavors.
Featured Facilities
1st Floor
In addition to the Cidre Factory and local products market, the first floor also includes restaurants serving a variety of cuisines, such as sweets, including tarts and gelato, hamburger steak using Aomori beef, and Japanese style rice bowls with fresh tuna.
2nd Floor
The second floor has an event space and a specialty shop that sells galette, a French-style crusty cake made with buckwheat. This cake pairs excellently with A-FACTORY's cidre.
Address

青森市柳川1-4-2

Telephone Number

017-752-1890

Opening Times

Shopping: 9:00~20:00
1F Restaurants: 11:00~20:00
2F Restaurants: 11:00~21:00

Closures

Irregular
1min
JR Aomori Sta.
22min
JR Kanita Sta.
40min
JR Minmaya Sta.
Sotogahama Town Loop Bus, 30min
Cape Tappi
Cape Tappi is the northern most point of the Tsugaru peninsula. The name, Tappi, which literally means "as dragon flies", was named after the strong winds that blow in the area, just as if a dragon flew. Near the lighthouse, there are stone monuments for various prominent figures with connection to Tsugaru such as Osamu Dazai and Shoin Yoshida.
A Highway for Pedestrians? The Highway Route 339
The section of Highway Route 339 that runs through Cape Tappi is actually a stairway of 362 steps, from the coastal line to the lighthouse. It is the only stair highway route with a total of 388.2 m (1273 feet) in Japan.
The stairway is openly exposed to the strong winds from the Tsugaru Channel, and it has become a popular tourist spot.
Cape Tappi Tourist Information Center Tappi-kan
Tappi-kan was remodeled from the Okuya Inn, which hosted famous figures such as Osamu Dazai and Shiko Munekata. In addition to artifacts of Dazai and Shiko, there are also photographs and paintings of Cape Tappi exhibited at the center.


Address

東津軽郡外ヶ浜町字三厩龍浜

Telephone Number

0174-31-8025
20min
or 3min Bus (Sotogahama Town Loop Bus)
Seikan Tunnel Memorial Hall
Seikan Tunnel, the longest undersea tunnel in the world, opened for service in March 1988, 42 years after it was first conceived. The Memorial Hall presents the history of its construction through a 3D model, visual images and panels. There is an exhibition zone where visitors can experience a 45 minute course to learn how this tunnel, measuring a total of 53.85 km and submerged 240 meters underwater, was constructed. The cable car that takes visitors to this underwater tunnel 140 meters under water in just 9 minutes is the shortest private railway in the world, the Seikan Tunnel Tappi Shako-Line.
Address

東津軽郡外ヶ浜町字三厩龍浜99

Telephone Number

0174-38-2301

Opening Times

April 25 - November 10
9:00 a.m. - 4:30 p.m.
Goal