Spring 2night 3day route
Suggested Time

3 days / 2 nights
Transport Options

Drive
Season

Spring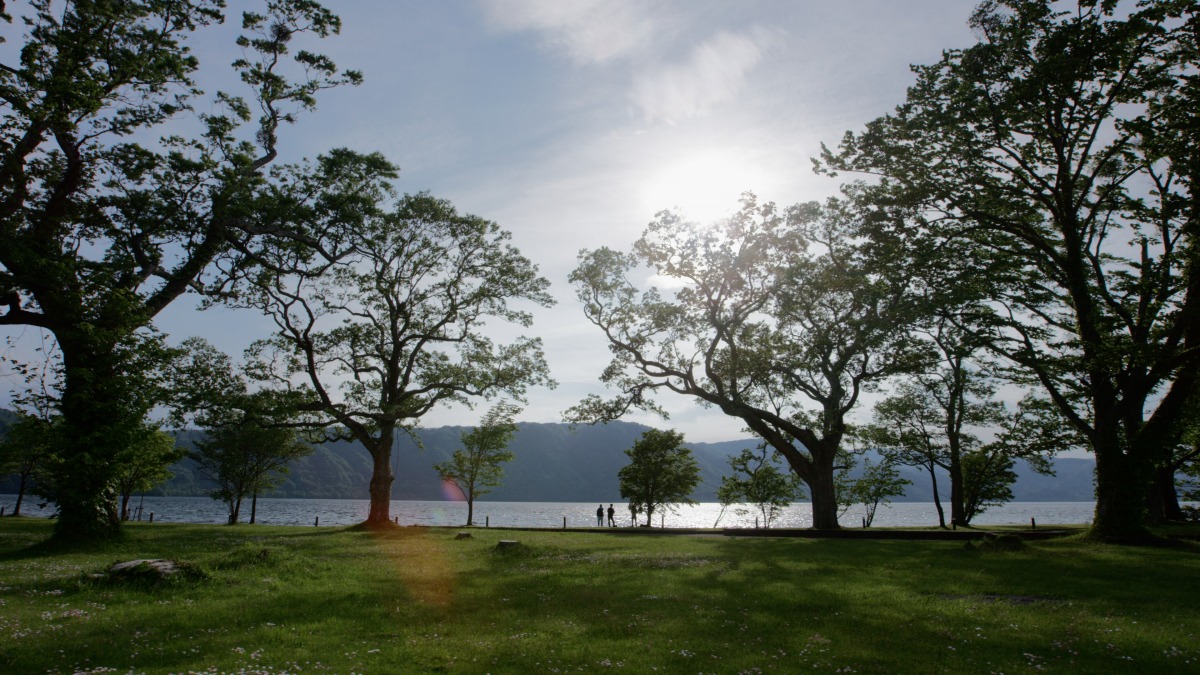 Aomori Prefecture Tourist Center ASPAM (A toursit center in Aomori featuring an observation floor with a view of Aomori, and panorama movie on 360 degree screen), Komaki Onsen (One of the largest Onsen hotels in Tohoku. At Michinoku-Matsuriya restaurant, visitors can immerse themselves in the atmosphere of the three major summer festival while enjoying a great meal), Towada Kanchogai-dori (Selected as one of the 100 best streets, and when the cherry trees lining the street come into full bloom in spring they turn everything pink), Oirase Keiryu (The upper reaches of the Oirase River that flows into Lake Towada. The beautiful sight during May to June, the season of new green leaves, is well-known, being the subject of many posters and paintings), Lake Towada (A caldera lake in Japan. Diverse scenery, new green, red foliage and white snow can be enjoyed as the seasons change from a pleasure boat), Hakkoda Ropeway (Gondola takes passenger up 1,200 meters for a panoramic view of Hakkoda from the peak), Aomori City Museum / Sannai-Maruyama ruins (These 2 facilities are approximately 5-min. drive apart. Works by Chagall, Shiko Munakata and Yoshitomo Nara are on display in the museum. The Sannai-Maruyama site is approximately 5,000 years old and these are the largest ruins in Japan), Hirosaki Park (A park that attracts the largest number of visitors with its beautiful cherry blossoms during Golden Week. The castle moat colored pink from the cherry blossoms is a stunning sight), Fujita Commemorative Garden (With a total area covering 21,800m2, it is the second largest Japanese garden in the Tohoku region. Relax with a cup of tea in the classical mansion).
Start
Day1
Aomori Tourist Information Center, ASPAM
A bayside landmark packed with Aomori souvenirs
This waterfront facility has a distinctive triangular building modeled after the "A" in "Aomori" and is beautifully lit up at night.
Lured in by the mouthwatering aroma of freshly baked apple pie, you will find the first floor packed with delicious Aomori specialties ranging from local sake to sweets. Fresh apples are also sold in abundance when in season.
The second floor is the "Interactive Zone." The 360-degree panoramic movie theater shows immersive 3D digital video of the Nebuta Festival. You can also watch a demonstration of Kogin-zashi embroidery, a traditional craft that showcases the fine skill and fortitude developed by women living in this harsh northern region.
There is an observatory on the thirteenth floor where you can enjoy a 360-degree view from a height of 51 meters of surroundings such as downtown Aomori, the port, and the Hakkoda Mountains. On clear days, you may even be able to see as far as Hokkaido.
◆ The name "ASPAM" is an abbreviation for "Aomori" "Sightseeing" "Products" "Mansion."
Address

青森市安方1-1-40

Telephone Number

017-735-5311

Opening Times

8:30 a.m. to 7:00 p.m. (as of July 2022)

*Operating hours inside the building vary by shop and season, but many shops are open from 9:00 a.m. to 6:00 p.m.


Closures

December 31; some closures for inspection of onsite facilities
Hoshino Resorts Aomoriya
Aomoriya is an onsen (hot spring) hotel with easy access from JR Hachinohe Station and Misawa Airport. The irori (hearth) lounge area offers a mixed atmosphere of old Japanese and modern interior. It has a relaxing area with sofas and tables for the convenience for visitors and is open to all guests. The guest rooms are Japanese or Japanese/Western style for visitors to enjoy the calm Japanese atmosphere. Some rooms are decorated with Aomori art crafts such as bunaco (various products made with beech wood), Nambu sakiori (Nambu style woven textile), and yawatauma (horse-shaped toy).
Dinner is served at the hotel restaurant, which was designed to look like an old Japanese farm house kitchen. Dinner is buffet-style with the concept of mother's home-cooking. A wide selection of dishes from Japanese, western, and Chinese cuisine are available in addition to local Aomori sake.
The onsen bath features a beech wooden indoor bathtub and an outdoor bath named "Ukiyu", a bath that appears to be floating on the pond.
Hot Spring Water Composition / Alkaline simple hot spring
Hot Spring Benefits / Nerve pain, muscle pain, joint pain, shoulder pain, poor circulation
Performance Restaurant "Michinoku Matsuriya"
Guests are entertained with a live show from the four major festivals of Aomori, Aomori Nebuta, Hirosaki Neputa, Hachinohe Sansha Taisai, Goshogawara Tachineputa. Sukiyaki, local cuisine sembei-jiru, fresh seafood and mountain vegetables are served while guests enjoy the live performance.
Location
2nd Floor Main Building Performance Restaurant "Michinoku Matsuriya"
Hours
18:45~ Dinner,19:40~ Live Performance,
20:00~ Experience Aomori Nebuta ohayashi musicians and haneto dancers
Address

三沢市古間木山56

Telephone Number

0570-073-022

Opening Times

One Day Onsen
[Large Bath (Ukiyu, Hibayu)]
8:00~23:00 (Final Admittance 22:00)
*Closed Every Monday 12:00~13:00 for Cleaning
*Restrictions may apply. Visit the official homepage for more information.

[Motoyu Bath]
5:00~23:00 (Final Admittance 22:00)

[CHECK-IN] 15:00~
[CHECK-OUT] ~12:00

Closures

None
Day2
Towada City Kanchogai-dori / Komakaido
168 pine trees and 157cherry trees line this 36 meter-wide street extending for 1.1 km. In 1986, the street was selected as one of 100 best streets in Japan, and in 1992, it was also selected and included in the "New One Hundred Views of Japan." The street is beautifully lit up both when the cherry blossoms come in full bloom in spring and during the Christmas holidays.
Address

十和田市稲生町15-3(アートステーション内)

Telephone Number

0176-24-3006
Autumn Leaves of Oirase Gorge
The Oirase Gorge is one of the most beautiful river valleys in Japan, with vibrant and fast flowing water. The gorge extends over 14 km from the contrastively calm Lake Towada. The Oirase Gorge shows its beauty in different ways throughout the four seasons. However, the gorge is mostly known for its spectacular autumn foliage in the fall season.
The Oirase Gorge has an enchanting atmosphere with many waterfalls and thick woods. Starting in October, the leaves of the trees begin to change to vibrant red and yellow, adding to the already vivid green of the moss on the rocks, adding colors to a magnificent sight. The autumn colors peak every year around the end of October to the beginning of November. Visitors can hike around the gorge on the hiking trail. The gorge is a National Special Place of Scenic Beauty and National Natural Monument.
Rental Bicycles
Rental Bicycles are available for visitors who prefer cycling to walking.
Basic Fee
4 Hours Regular bicycle ¥1,000 Electric bicycle ¥1,500
Rental Hours
8:30~16:30
Rental Location
Oirase Sream Museum TEL:0176-74-1233
Ishikedo Rest Area TEL:0176-74-2355
JR Bus Nenokuchi TEL:0176-75-2244
The Oirase Stream Museum
The Oirase Stream Museum is located conveniently at the mouth of the Oirase Gorge for visitors to enjoy a break with a light meal or shop for souvenirs.
Address

十和田市奥瀬栃久保183

Telephone Number

0176-75-2425
Towadako Sightseeing Boat
Take in the beauty of the four seasons at Lake Towada on this sightseeing cruiser. The boat takes you on a cruise to see the mountains colored with new green leaves in early summer and red foliage during autumn. It moves along the complex peninsula allowing for the view of steep cliffs from the water.
Hakkoda Ropeway
A magnificent view of Mt. Hakkoda in all seasons.
The Hakkoda Ropeway is located in the Towada-Hachimantai National Park and operates throughout the year. The autumn leaves season and the winter ice season are especially popular.
Address

青森市荒川字寒水沢1-12

Telephone Number

017-738-0343

Opening Times

09:00 to 16:20 (March to early November)
09:00 to 15:40 (mid-November to late February)

Closures

11/8 to 11/13 Machine Maintenance Inspection
Day3
Aomori Museum of Art
Aomori Museum of Art was established as an annex to the San-nai Maruyama Jomon Ruins as a center for information about the art and culture of the northern Tokoku region. The museum building is filled with the romance of Jomon culture, and the white walls carry the hopes and dreams that today will add another page to its history.
Sannai-Maruyama Historical Site
Sannai-Maruyama Historical Site is one of Japan's largest historical sites consisting of remains of human settlement from approximately 5500 to 4000 years ago. The site features several pit-houses and stilt-houses unearthed since archeological excavation began in 1992. The excavation has also uncovered various earthenware and stoneware artifacts, as well as those composed of jade and skillfully created lacquer. These findings were of great significance as it provided us with a new image of the Jomon culture.
In 1994, Aomori Prefecture decided to preserve the site upon consideration of the site's historical significance. In November 2000, Sannai-Maruyama Historical Site was designated as a National Special Historical Site of Japan.
Nominating the Jomon Historical Sites for a World Heritage Site
In addition to Sannai-Maruyama Historical Site, there are many historic sites from the Jomon period demonstrating Jomon culture throughout Hokkaido and northern Tohoku area. Considering the historical and cultural significance of the sites that must be preserved for future generations, there is currently a plan to nominate the Jomon Historic Sites in Hokkaido and Northern Tohoku for World Heritage Site.
Learning about the Jomon Culture
At the Sannai-Maruyama Historical Site, within the Jomon Jiyukan (Park Center), visitors can view artifacts from the excavation site on display. Additionally, visitors can try their hand at craftwork inspired by Jomon culture. English speaking volunteer guides attend to help upon reservation.
Address

青森市三内丸山305

Telephone Number

017-781-6078

Opening Times

・Jomon Jiyukan (Park Center) 9:00~17:00 
*Open until 18:00 during Golden Week and the period of June 1st to September 20th
・Hokusaikan (Souvenir Shop) 9:00~17:00
・Restaurant 
(May-October) Food 11:00~15:00, Drinks 10:30~17:00
(November-April) Food 11:00~14:00, Drinks 10:30~16:30
*Opening hours may change due to special events.

Closures

・December 30th- January 1st
・Other designated days for site maintenance
Hirosaki Castle (Hirosaki Park)
The park is famous as one of the top cherry blossom viewing spots in Japan.
Hirosaki Park is a vast park located in the center of Hirosaki City. The park is home to 2,000 cherry trees and attracts visitors from all over the world during the Hirosaki Cherry Blossom Festival held in spring. In addition to the Autumn Foliage Festival in autumn and the Snow Lantern Festival in winter, various events for local residents are held throughout the year, making this park a beloved symbol of the community.
Address

弘前市大字下白銀町一番地

Telephone Number

0172-33-8739

Opening Times

09:00 to 17:00

Closures

11/24 to 3/31
Fujita Kinen Teien (Fujita Memorial Garden)
This Japanese garden was created in July 1991, commemorating the 100th anniversary of Hirosaki becoming a city. This Edo-style landscape was designed by a landscape artist from Tokyo as the garden for the residence of Kenichi Fujita, the first chairman of the Japan Chamber of Commerce and Industry.
Address

弘前市上白銀町8-1

Telephone Number

0172-37-5525
* December - March
0172-33-8733
Goal