Train Journey Through the Traditional Countryside (1 Day Model Sightseeing Course)
Suggested Time

1day
Transport Options

Train, Walk
Season

All year around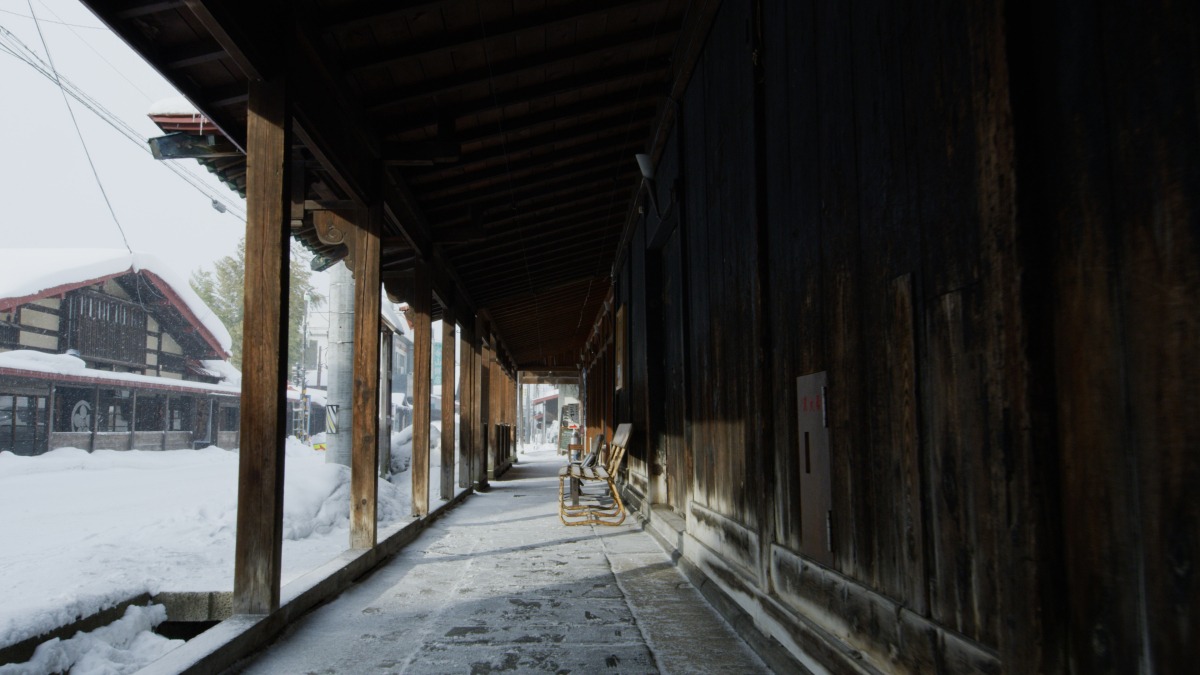 Ride the local train, visit unknown countryside towns, and discover the inherited traditions and culture of the Tsugaru region. Catch a glimpse of the real Japan through landscapes, cuisine, and more that you can't find anywhere else. Experience countryside scenery and the local way of life through this special model sightseeing course.
*This course was made using train schedules from March 2020. Please understand that train times may change in the future.
Start
Hirosaki Station
Konan Railways Konan line, 22 minutes
Tsugaru-Onoe Station
10 minutes
Scenic Beauty, Seibien
A unique style of landscape called Oishi Bugaku-ryu has been inherited from the past in Tsugaru. Seibien, a government-designated historic site, is a typical example of this gardening style. Construction of this pond-circuit style garden is said to have begun in 1902. Taking 9 years to complete, the garden covers approximately 1.2 ha of land. A yew tree is trimmed in the shape of the god that created the heaven and the earth, a picturesque touch placed among the carefully positioned garden rocks whose background is the Tsugaru Plain and far away mountains. It is a famous scenic spot with a fabulous decorative landscape. Seibikan, standing in one corner of Seibien, is a unique building with a purely Japanese-style structure on the first floor, and a western style-structure on the second floor. The architecture is characteristic of buildings during the Rokumeikan age. The beauty of the building harmonizes with the garden, evoking a scene from the Meiji Era.
Address

平川市猿賀字石林1

Telephone Number

0172-57-2020
5 minutes
Saruka Park
Spanning 6.3 hectares, Saruka Park has a great view of Mt. Iwaki, which is often called the Tsugaru region's Mt. Fuji. This hidden gem of a park is home to almost 330 cherry blossom trees that bloom beautifully in the spring. In summer, lotus blossoms, which are said to be the northernmost in Japan, bloom gorgeously on the surface of Kagamigaike Pond. In autumn, you can enjoy how the leaves turn pure red.
If you want to explore this area even more
Saruka Shrine (15 min walk from Tsugaru-Onoe Station)
Said to have been founded in 807, Saruka Shrine is inside Saruka Park and is one of the representative shrines of the Tsugaru Region. To the east of the shrine is Kagamigaike, a pond filled with lotus blossoms, and if you cross the red bridge, there is another shrine dedicated to the goddess Benten. There is much to enjoy, including the Aomori-style sumo ring, a popular sport in the prefecture, as well as buying omikuji (fortune slips) and o-mamori (protective charms).
25 minutes
Daijyu Shokudo
Opened in 1900, Daijyu Shokudo is one of the restaurants in the Tsugaru Region with over 100 years of history. Currently, the 4th generation chef runs the kitchen and is loved by local customers for diligently preserving the restaurant's original flavors. The A Set, featuring yakisoba, ramen, and onigiri, is popular. The yakisoba is especially high quality. Hand-stretched, thick noodles are made in-house and stir-fried in lard with pork and onion before being mixed with a rich sauce to create what many critics agree is Aomori Prefecture's most delicious yakisoba. 【English and Chinese (Traditional) menus are available】


| | |
| --- | --- |
| Hours | 11:00-16:00 |
| Closed | Mondays (Tuesday if Monday is a holiday) |
If you want to explore this area even more
Farming Storehouses (40 min walk from Tsugaru-Onoe Station)
In the Kanaya area of Hirakawa there is a group of 78 storehouses that have been used to store rice and apples for many years. Storehouses are usually built far into a plot of land, but here they are built along the road. This is a rare sight to see and symbolizes the prosperity of the area. The Kura Kobo Storehouse Café, which only opens on the last Friday and Saturday of each month, sells bread made using local rice flour and domestically-produced flour that is fermented with natural yeast. None of the bread contains any additives or eggs. There are many regular customers who travel long distances just to come to this café.
5 minutes
Tsugaru-Onoe Station
4 minutes
Tanbo Art Station
2 minutes
Rice Paddy Art -Inakadate Village-
The rice paddy art began in 1993 when purple and yellow rice plants were used to make a picture of Mt. Iwaki along with letters on rice paddies. The main purpose behind the creation was to take advantage of the tradition of manual work in rice cultivation to give people an opportunity to learn more about rice farming and agriculture.
The rice paddy art uses various colored rice plants as paint on a rice-field canvas. The massive pictures are elaborately designed using perspective drawing methods to make them look their best when seen from the observation platform. The art has gained media attention from domestic and international media because of its uniqueness. Every year, over 100,000 visitors from Japan and abroad come to see the fields, including the Emperor and Empress of Japan in September, 2014.
Rice Making Experience Tour
[Rice Planting Tour Beginning of June]
Fee:Free (lunch provided)
*Please come dressed in clothing appropriate for manual labor. (Prior registration is required)
[Rice Harvesting Tour End of September]
Fee: Free (Onigiri (rice ball) and tonjiru (pork miso soup) are provided)
*Please come dressed in clothing appropriate for manual labor. (Prior registration is required)
[Inakadate-mura Planning Tourism Division, Chamber of tourism section]
TEL 0172-58-2111(ext.242)
FAX 0172-58-4751
e-mail muraokoshi@vill.inakadate.ig.jp
Address

南津軽郡田舎館村田舎舘中辻123−1 田舎館村役場(田舎館村展望台)

Telephone Number

0172-58-2111

Opening Times

9:00~17:00(Last Admission 16:30)(Beginning of June ~ mid-October)

Closures

Open on weekends and holidays during the rice paddy art event.
2 minutes
Tanbo Art Station
8 minutes
Kuroishi Station
10 minutes
Komise
Selected as one of the Top 100 Streets in Japan, Komise is a wooden arcade street that was built to protect people from the sun in summer and blizzards during harsh northern winters. It has remained unchanged since Kuroishi was the castle town of the Tsugaru-Kuroishi Domain during the Edo Period. With old merchant houses and sake breweries, you can still feel the distinct traditional atmosphere of the Tsugaru region.
If you want to explore this area even more
Nakano Momiji Mountain (25 min bus from Kuroishi Station)Kuroishi's Nakano Momiji Mountain is a well-loved spot to see the autumn leaves, with hundreds of maple trees that were brought over from Kyoto as saplings back in 1802. The beautiful scenery is highly rated, with multicolored autumn leaves, a waterfall, a stream, and a red bridge. The spot is very popular from mid-October to early November when the leaves are lit up at night.
Address

黒石市大字中町、浦町2丁目、大字甲徳兵衛町、大字横町の各一部

Telephone Number

0172-52-2111
Tsugaru Komise Eki
This souvenir store has free live Tsugaru-shamisen performances at 11 am and 2 pm every day from late April to early November and on weekends and holidays between mid-November and mid-April. Tsugaru-shamisen displays the performer's personality through a lot of variation, tempo changes, and performance styles, such as strumming or hitting the shamisen strings. We recommend this store if you are looking for local souvenirs you can only find in Kuroishi.
| | |
| --- | --- |
| Hours | 9:00-17:00 |
| Closed | January 1st |
Free entry
If you want to explore this area even more
Kuroishi Onsen Village (bus from Kuroishi Station)
Kuroishi Onsen Village has been a popular hot spring health resort since long ago, with four separate onsen areas: Nuruyu, Ochiai, Itadome, and Aoni. Nearby spots you can visit include the Tsugaru Traditional Craft Center and the Tsugaru Kokeshi Doll Museum, which displays and sells multicolored kokeshi dolls that are also very popular overseas.
Narumi Sake Brewery
This long-standing sake brewery has been around since 1806 (roughly 210 years ago), and sake is brewed and stored in a storehouse on site. The sake is made using subsoil water from Hakkoda Mountains and local rice. The current chief brewer is the 7th generation head of the company. Their specialty sake is highly acclaimed, and they have previously won a gold award from the National Research Institute of Brewing. Inside the brewery, you can buy sake and also enjoy the splendid Tsugaru-style Japanese garden.


| | |
| --- | --- |
| Hours | 8:30-16:30 |
| Closed | Sundays (Opening hours are subject to change, and the brewery is sometimes closed temporarily) |
Free entry
(The WANO PASS includes a coupon for a free sake cup from Narumi Sake Brewery (adult tickets only). If you are 20 years old or above, you can also try tasting three types of sake)
Matsunoyu Koryokan
The pine tree growing through the roof is a landmark.
Matsu-no-yu was a bath-house for many years and, together with its iconic 350-year-old pine tree, is deeply loved by the locals. Nowadays, it is open to the public as a communal space. The entrances still have curtains saying 'men' and 'women' over the door like the entrance to a bath-house, and the bath itself is preserved inside. (You can stand inside the bath!) There's a fashionable café called Jumonji Café inside an old storehouse behind the Matsu-no-yu Community Center. The dessert and drink set and the lunch menu are very popular.
| | |
| --- | --- |
| Hours | 9:30-18:00 |
| Closed | Mondays December to March (Tuesday if Monday is a holiday). Beginning and end of the year. |
Free entry
Address

黒石市中町33

Telephone Number

0172-55-6782

Opening Times

09:30 to 18:00

Closures

Year end / new year
10 minutes
Kuroishi Station
34 minutes
Hirosaki Station
Goal