Spring 1night 2days route
Suggested Time

2 days / 1 nights
Transport Options

Drive
Season

Spring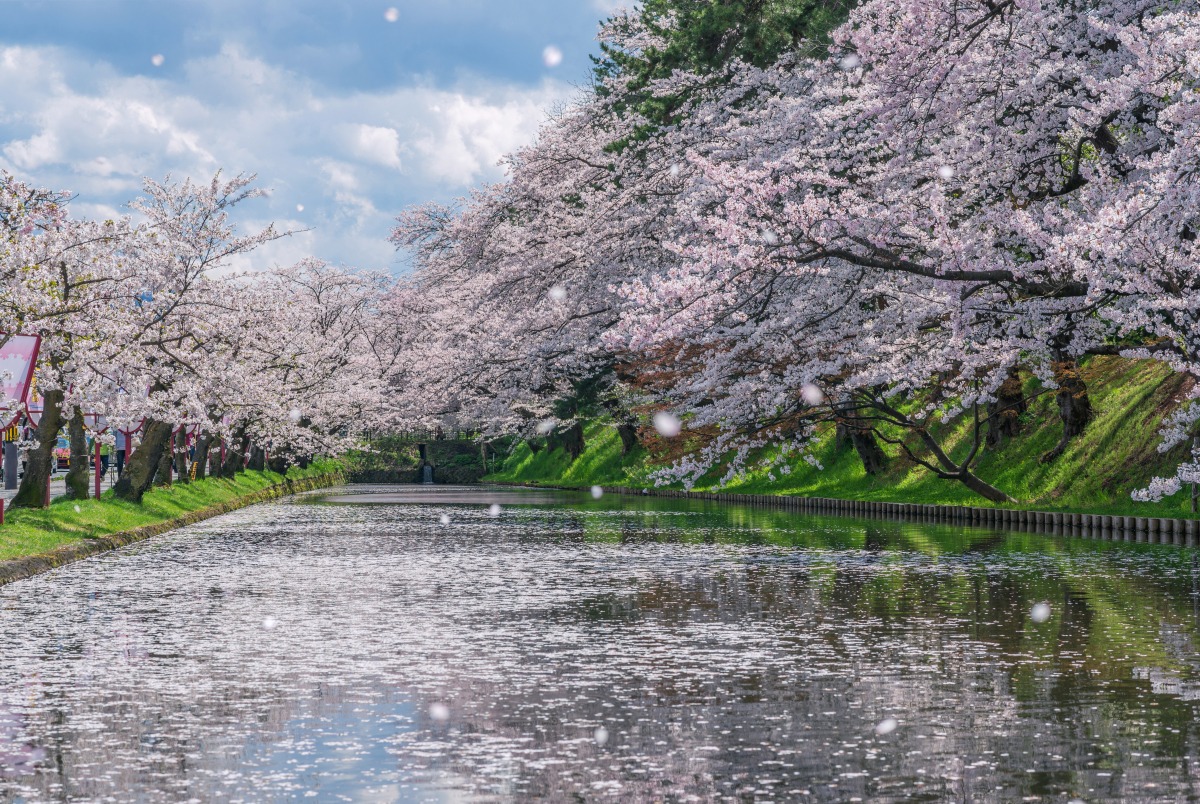 Hirosaki Park (A park that attracts the largest number of visitors with its beautiful cherry blossoms during Golden Week. There is a spectacular sight of cherry blossom petals falling on the old castle and castle moat coloring the area pink), Tsugaru Domain Neputa Village (Located next to Hirosaki Park. Visitors can feel a touch of Hirosaki Nebuta throughout the year and try their hand at making local crafts including Kingyo Neputa), Tachi-Neputa-no-yakata (Tachi-neputa used during the Goshogawara Summer Festival is on display throughout the year. The neputa standing 21 meters tall is a spectacular site), Ajigasawa Onsen (Facing the Japan Sea, it boasts fresh seafood and the sight of the sun setting into the sea from an open-air bath), Senjojiki (A geological structure formed by a huge earthquake that hit about 200 years ago. There are many uniquely shaped rocks), Roadside Station Fukaura (The west coast of Tsugaru is an area of squid production and on a sunny day, visitors can see a "curtain of squid" drying in the sun. Try the delicious just-grilled squid), Wespa Tsubakiyama (A popular facility with an observatory overlooking Shirakami Sanchi and the Japan Sea, ride up on a special car), Jyuniko (A group of lakes and ponds formed by a huge earthquake that hit about 200 years ago. Enjoy a leisurely stroll to Aoike that looks like someone poured indigo blue ink into the water), Moriyama Beach (Boasts many uniquely shaped rocks eroded by rough waves, and a beautiful view of the sun as it sets in the Japan Sea)
Start
Day1
Hirosaki Park
The park is famous as one of the top cherry blossom viewing spots in Japan.
Hirosaki Park is a vast park located in the center of Hirosaki City. The park is home to 2,000 cherry trees and attracts visitors from all over the world during the Hirosaki Cherry Blossom Festival held in spring. In addition to the Autumn Foliage Festival in autumn and the Snow Lantern Festival in winter, various events for local residents are held throughout the year, making this park a beloved symbol of the community.
Address

弘前市大字下白銀町一番地

Telephone Number

0172-33-8739

Opening Times

09:00 to 17:00

Closures

11/24 to 3/31
Tsugaru Clan Neputa Village
A hands-on sightseeing facility based on the theme of the Hirosaki Neputa Festival.
Tsugaru-han Neputa Mura is a tourist spot where visitors can experience a quasi-Hirosaki Neputa Festival. The fan-shaped Neputa actually used in the festival are exhibited for viewing. Visitors can also try the taiko (Japanese drums) along with the Neputa musicians themselves. Live Tsugaru-shamisen performance are also open for viewing.
There is a facility for visitors to see, experience, and buy Tsugaru traditional artwork, with shops selling local produce such as vegetables, apples, and rice.
Address

弘前市亀甲町61

Telephone Number

0172-39-1511

Opening Times

09:00 to 17:00

Closures

None
Tachineputa no Yakata (Tachineputa Museum)
Goshogawara Tachineputa Festival is one of the four largest summer festivals held between August 4th and 8th. At the Tachineputa no Yakata, three real tachineputa are exhibited. The three neputa begin their parade from the museum.
The exhibition hall is an atrium with an incline around the 23-meter (75 feet) tachineputa so visitors can see it from top to down. Footage from the festival is shown at the exhibition hall. Additionally, visitors can see the making of the tachineputa at the production studio.
The gallery of the museum holds paintings from artists with connection to Aomori. The museum also has a souvenir shop, a restaurant, an observation lounge, and an experiencing room where visitors can make kingyo neputa (goldfish neputa).
Experiencing the Making of Tachineputa
At the Tachineputa production studio, visitors can experience making the tachineputa, including pasting the paper and coloring. Applications can be made on the day of the visit.
*Available for a limited time (Mid-April to Mid-June)
*Advance reservation required for groups larger than 10 people.
Address

五所川原市大町506-10

Telephone Number

0173-38-3232

Opening Times

9:00~21:00
[Tachineputa Exhibition Hall/Art Gallery]
(April~September) 9:00~19:00, (October~March) 9:00~17:00
*Special Hours
August 4th ~ 8th 9:00~17:00, August 13th 9:00~19:00, December 31st 9:00~15:00

Closures

January 1st (May be open. Contact us for details)
Day2
Senjojiki Coast
Senjojiki Coast, facing to the Sea of Japan, is a bedrock beach formed with the uplifting of land due to an earthquake in 1792. The rock shelf of approximately 12 kilometers, on which the lord of the area had 1,000 tatami mats laid out for a party, sweeps along the coast.
Visitors can enjoy the view from JR's resort train "Resort Shirakami", which will slow down when it comes to close the coast.
The view at sunset time is magnificent and is selected as one of the "100 best sunsets in Japan".
Address

西津軽郡深浦町北金ケ沢

Telephone Number

0173-74-4412

Opening Times

The beach season starts beginning of July and lasts until middle of August. *Depending on weather, schedule is subject to change.
World Heritage Site, Shirakami Sanchi
Shirakami Sanchi is a general term used to refer to the massive 130,000ha (501 square miles) mountainous land extended over Aomori and Akita prefecture. In December 1993, it became the first Japanese World Heritage Site along Yakushima in Kagoshima prefecture. There are only four natural heritage sites in Japan: Shirakami Sanchi of Aomori and Akita; Yakushima of Kagoshima; Shiretoko of Hokkaido; and Ogasawara Islands of Tokyo.
Shirakami Sanchi has been sheltered from human influence, maintaining its original shape with massive primeval beech trees. The forests of Shirakami Sanchi are home to precious rare animals and plants such as black woodpeckers and golden eagles.
Enjoying the Nature of Grand Shirakami Sanchi
In the towns of Fukaura or Ajigasawa, and the village of Nishimeya there are a few of the entrances to the forests of Shirakami Sanchi in Aomori. Visitors can climb mountains, trek through the beech forest, or meet locals around Shirakami Sanchi. This type of green tourism where visitors meet with nature and people is gaining popularity.
Some popular locations for visiting the Shirakami Sanchi are the Anmon Waterfall in Nishimeya-mura, the mother tree of Tsugaru Toge (Tsugaru pass), the Kurokuma Waterfall in Ajigasawa, and Lake Juniko in Fukaura.
Shirakami Sanchi Visitor Center
Visitors can learn about the natural environment of Shirakami Sanchi and its relation with people.
Address
61-1 Kanda Tashiro Nishimeya-mura Nakatsugaru-gun Aomori-ken 036-1411
Contact
0172-85-2810
Dates Closed
April through December – Every second Monday (the following day when it falls on a holiday)
December 29th to January 3rd
Admission Fee
Free(There is a charge for viewing large screen films)
URL
(Japanese)https://www.shirakami-visitor.jp/index.html
AquaGreenVillage ANMON
This facility has a general information center, onsen (hot spring), cottages, camp sites, and large play areas.


Address

西目屋村 鰺ヶ沢町 深浦町

Telephone Number

0172-85-2622
Lake Juniko (Twelve Lakes) /Aoike Pond
The Tsugaru Quasi-National Park, Lake Juniko (Twelve Lakes), is a collective name for 33 lakes and ponds that extend over an area of 4 square km (1.5 square miles) on an undulating plateau, with an altitude that ranges from 150 meters (492 feet) to 250 meters (820 feet). Although there are 33 ponds and lakes, the area is called Juniko (Twelve Lakes) because only twelve bodies of water can be seen from Mt. Okuzure's summit.
Juniko likely formed during the Edo period when a major earthquake blocked a mountain stream, causing it to expand into the present collection of lakes and ponds. Today, the area features walking trails and a campsite, making it a popular place for hiking, camping, nature sightseeing, and mountain climbing.
Aoike –Mystical Natural Beauty
Aoike is a remarkable lake renowned for its seemingly artificial, though completely natural, vibrant blue waters. The clear water, with a visibility of 9 meters (29 feet), offers visitors enchanting views of withered beech trees lying submerged in the cobalt water. The reason for its blue color is still unknown, adding to the lake's mysterious allure. The best season to view the lake is from spring to summer when the area's foliage is lush and green. The sight of Aoike glittering in tree-filtered sunlight is a truly breathtaking sight.
Juniko Visitor Center (Juniko Information Site)
The Juniko Visitor Center, located within Juniko Station, has many informational brochures about the area and also includes local produce shops, souvenir shops, coin lockers and temporary baggage storage areas.
Address JR Juniko Station Grounds, 33-1 Shita-Hamamatsu Matsukami, Fukaura Town, Nishitsugaru District, Aomori Prefecture 038-2206
Contact 0173-77-3000
Hours of Operation 9:00-17:00 (Beginning of April – Mid November)
Closed End of November to end of March
Admission Fee Free
Kyororo, the forest shop
Kyororo is a helpful facility for Shirakami Sanchi/Juniko sightseeing as it includes local produce sales, a snack shop, and parking (paid). The facility is conveniently located across from the Oku-Juniko Parking Bus Stop and is only a 10-minute walk away from Aoike.
Address Within Matsukamisan-Kokuyurin, Fukaura Town, Nishitsugaru District, Aomori Prefecture 038-2206
Contact 0173-77-2781
Hours of Operation 8:00-18:00(April to November)
Closed December to March
Admission Fee Free
URL (Japanese)http://www.shirakami-jyuniko.jp/kyororo/kyororo.html
Trekking Guide
Fukaura Town's residents volunteer as trekking guides and happily show visitors the area while providing information about Mt. Shirakami and the wildlife and history of Lake Juniko.
Fees
Lake Juniko Trekking (April–November)
Amount of Time: 1–3 hours 1 Guide ¥10,000
Mt. Okuzure Hiking (May–October)
Amount of Time: 4 hours 1 Guide ¥20,000
*Other options are also available.
*For visitors in wheelchairs, we offer special assistance. 1 Staff ¥5,000~
Contact: Shirakami Juniko Co., Ltd. TEL:0173-77-3311 FAX:0173-77-2681
Address

西津軽郡深浦町松神下浜松

Telephone Number

0173-74-4412
Goal