Enjoy nature's ultimate spa experience at Aomori's onsens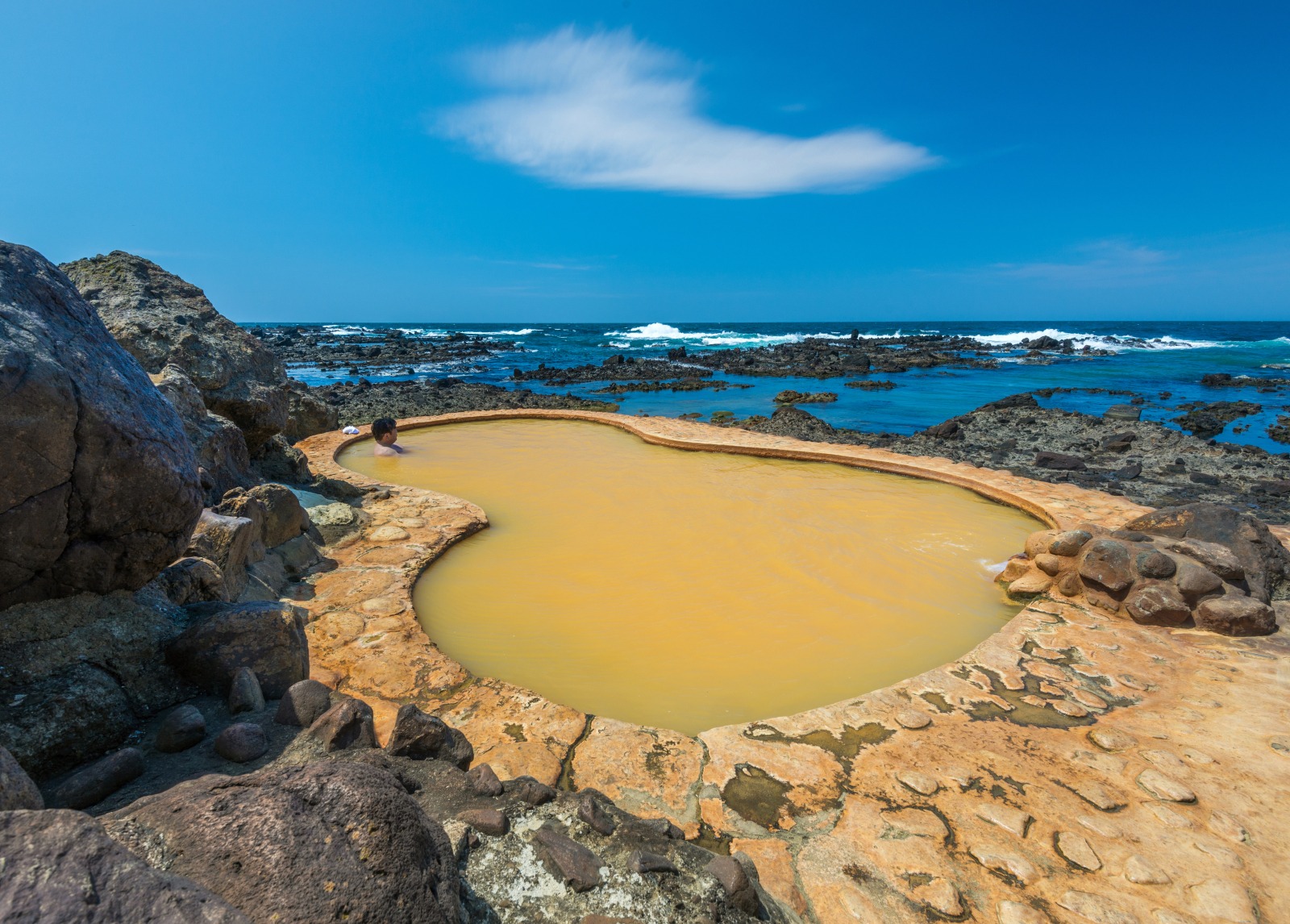 While hot springs bubble up from the earth all over Japan, Aomori's hot-spring spas or onsen offer exceptional opportunities to soak in the healing mineral waters amid spectacular natural surroundings. The following is a selection of notable hot-spring areas and resorts throughout the prefecture.
A hot-spring area with many opportunities for outdoor adventure and the atmosphere of an oceanside resort
Asamushi Onsen on the outskirts of Aomori City is a unique destination combining the features of a traditional Japanese hot-spring village with those of a seaside resort. On the west side of the station, you'll find large oceanside hotels that offer hot-spring baths with beautiful panoramic views of Mutsu Bay. Visitors can also enjoy various activities on the beach such as swimming, windsurfing, yachting, and fishing.
The east side of the station has a more retro vibe with traditional hot-spring inns. Visitors can enjoy activities like poaching eggs in the hot-spring water, as well as light hiking in a sprawling forest park. There is also an aquarium with aquatic animals from Aomori and around the world. Popular events like the Asamushi Onsen Fireworks Festival and Asamushi Onsen Nebuta Festival draw crowds in summer. And unlike some other hot-spring areas in Japan that have a strong sulfurous smell, the hot-spring water here is tasteless and odorous. It is also known for its moisturizing and beautifying properties that benefit the skin, so a long soak may have you looking as good as you feel!
Mineral-rich outdoor baths with breathtaking views of the Sea of Japan
Koganezaki Furofushi Onsen in Fukaura Town, Nishitsugaru District, is a hot-spring spa known for its open-air baths located right on the ocean. This means that visitors can enjoy spectacular views of the Sea of Japan while bathing. Since there is no nighttime lighting installed, the outdoor baths close at sundown for overnight guests and at 4:00 p.m. for day visitors. Being able to watch the sun set over the Sea of Japan makes an overnight stay well worth it.
The water is exceptionally rich in iron, which gives it a distinctive reddish-brown color. Note that the main outdoor bath is mixed sex, but there is also a women-only outdoor bath for female patrons who may not feel comfortable with mixed bathing. In addition, although nudity is normally mandatory at Japanese public baths, bathing costumes to wear in the mixed bath are available for rental at the hotel (free for overnight guests). The name of the hot spring comes from the Japanese word furofushi meaning "immortality," derived from the local saying that "anyone who enjoys the benefits of these waters will never grow old or sick." While we can't guarantee the veracity of this claim, a visit to Furofushi Onsen is sure to be an unforgettable experience.
A rare free-flowing onsen with almost one thousand years of history
Tsuta Onsen in Towada City is located halfway up the Hakkoda Mountains near the entrance to Oirase Gorge. It is surrounded by a vast virgin beech forest, and the inn itself is an elegant wooden structure with a historic ambience. Records show that people have enjoyed bathing in this hot spring for as far back as one thousand years. In addition, Tsuta Onsen is one of the few free-flowing hot-spring spas in Japan. The baths were placed directly over the hot-spring source, meaning that the hot-spring water gushes from the bottoms of the tubs without ever touching the air.
In addition to the hot-spring inn's close proximity to popular attractions such as Oirase Gorge and Lake Towada, nearby walking trails allow visitors to explore a network of ponds and lakes with mystical scenery that changes with the seasons but is especially beautiful in autumn, when the Hakkoda Mountains are covered in brilliant red and yellow foliage. This makes Tsuta Onsen the perfect hot-spring destination for travelers who also want to explore the great outdoors.
The northernmost hot-spring village on the island of Honshu, with sunset views of fishing boats on the Tsugaru Strait
At Shimofuro Onsen in Kazamaura Village, Shimokita District, visitors can enjoy the unparalleled coziness of a hot bath while watching the rough waves of the Tsugaru Strait and the lights of countless fishing boats. Positioned between the mountains and the sea, the location of Shimofuro Onsen grants it exceptional scenic beauty. It is also notable for having three different hot-spring sources, each with distinctive properties. This means you might enjoy a totally different bathing experience depending on the hot-spring facility you choose. Having hot-spring sources with different water qualities so close to one another is rare, even in Japan.
Thanks to the local fishing port, Shimofuro Onsen is also known for its delicious seafood freshly caught in the Tsugaru Strait. You'll definitely want to savor all the mouthwatering varieties including monkfish, a winter specialty. This hot-spring village is sure to delight onsen lovers and foodies alike!
A unique "fossilized seawater" hot spring forged over the course of eons
Ajigasawa Onsen in Ajigasawa Town, Nishitsugaru District, is an extremely rare "fossilized seawater" hot spring formed over the course of 300,000 years from seawater trapped underground. This has resulted in hot-spring baths with a high level of salinity that could be considered a natural kind of thalassotherapy (therapeutic seawater bathing).
Ajigasawa Onsen is located in the foothills of the Shirakami Sanchi World Heritage Site, offering easy access to the spectacular natural beauty of the region's sprawling forests. The town's hot-spring inns also pride themselves on their cuisine featuring tasty seafood. Immersing yourself in prehistoric seawater heated by the energy of the earth is an experience that you're unlikely to find anywhere else.
Whether you choose a day visit or an overnight stay at a hot-spring inn, a relaxing soak in an onsen will refresh your tired body after the day's activities and warm you from the inside out, even in Aomori's frigid winters. It's safe to say that no trip to Aomori Prefecture is complete without a dip in its hot-spring baths.