Take a Ramen Tour of Aomori!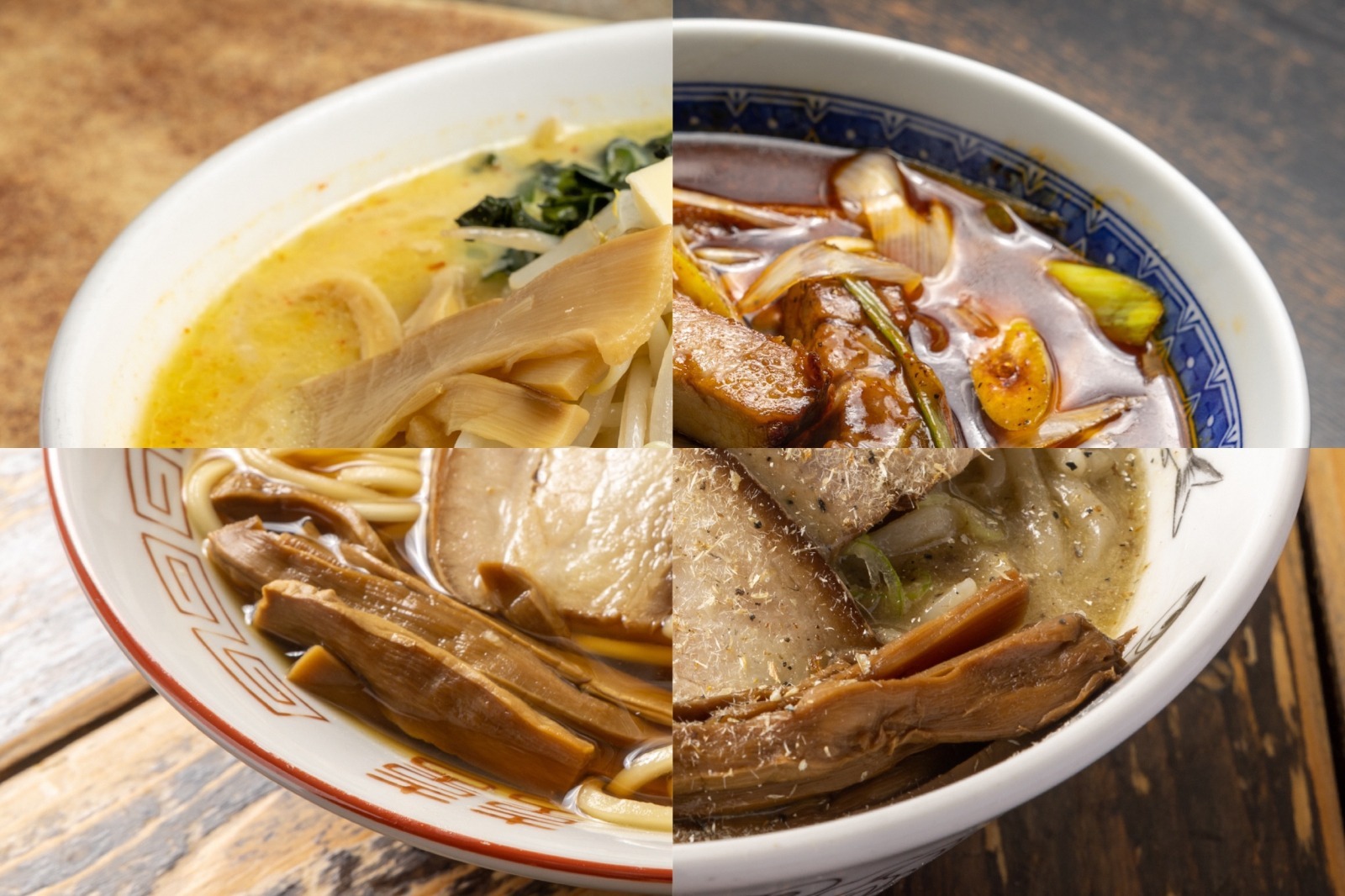 Ramen noodles are a hearty, flavorful comfort food that's won fans all over the world, but did you know that Aomori is actually one of Japan's "local ramen" hotspots? That's right, various regions of Japan have their own variations on the popular noodle dish, but in Aomori you'll find some exceptionally tasty and unique ramen dishes that are sure to leave you craving more!
Hachinohe Ramen (Hachinohe City)
These ramen noodles are a classic dish served at ramen shops in and around Hachinohe City. The dish is characterized by its dark, slightly tangy soy-sauce-based broth that incorporates the extracts of local sardines, chicken bones, and pork bones. The savory yet complex flavor of the broth goes well with the thin, curly noodles that traditionally accompany it.
| | |
| --- | --- |
| Photo Credit | Aji no Mensho |
| Address | 青森県八戸市三日町10-1 |
| Telephone Number | 080-6011-8866 |
| Opening Times | 11:00 a.m. to 9:00 p.m. |
| Closures | Mondays |
| Directions | An approx. 10-minute walk from JR Hon-Hachinohe Station |
| Website | Aji no Mensho (Japanese) |
Jusanko Shijimi Ramen (Goshogawara City)
This ramen dish makes abundant use of Japanese basket clams (shijimi) from Lake Jusanko, both in the broth and as a topping. Basket clams, which are high in various amino acids as well as minerals, are a popular folk remedy for hangovers in Japan, so a bowl of Jusanko Shijimi ramen noodles may be just what you need after a night of going overboard on Aomori's delicious local sake, cider, and craft beer! In addition to the rich broth, which takes on a cloudy appearance from the intense umami flavor of the clams, the noodles are usually topped with a boiled egg, green onion, bamboo shoots, and seaweed.
Photo Credit

Shijimi Ramen Wakayama (Jusanko Main Shop)

Address

青森県五所川原市十三羽黒崎133-22

Telephone Number

0173-62-2357

Opening Times

10:00 a.m. to 6:00 p.m. (April to October)

10:00 a.m. to 5:00 p.m. (November to March)

Closures

December 31 and January 1

Directions

Take a Konan Bus on the Shiura Chosha Route from JR Goshogawara Station, get off at "Jusan" (ride time: approx. 1 hour and 20 minutes), and walk 1 minute.

Website

Shijimi Ramen Wakayama (Japanese)
Miso-Curry-Milk Ramen (Aomori City)
Miso-Curry-Milk Ramen was invented as part of a trend for adding various toppings to ramen noodles among local teenagers. Since then, it has become a beloved ramen dish in Aomori City, where it is served at five different noodle shops, each with its own slightly different flavor. The broth blends the rich, full-bodied taste of miso with the creaminess of milk and the spiciness of curry, making it the perfect match for the chewy, medium-thick noodles, which have a distinctive yellowish color. The toppings include butter, bean sprouts, bamboo shoots, seaweed, and roasted pork slices, making this a hearty and filling dish.
| | |
| --- | --- |
| Photo Credit | Aji no Sapporo Onishi |
| Address | 青森市古川1-15-6 大西クリエイトビル1F |
| Telephone Number | 017-723-1036 |
| Opening Times | 11:00 a.m. to 6:00 p.m. |
| Closures | Tuesdays and Wednesdays |
| Directions | An approx. 8-minute walk from JR Aomori Station |
| Website | Aji no Sapporo Onishi (Japanese) |
Tsugaru Niboshi Ramen (Aomori City)
The broth of this ramen dish is made from small, dried sardines (niboshi), which are amply caught by fishermen in the waters of the Tsugaru region. It is probably the most popular ramen dish in Aomori City, served at over 80% of the city's more than 100 ramen noodle shops, and each shop has its own variations on the sardine-based broth, ranging from light and simple to rich and heavy. The noodles can also be thin, medium-thick, or curly, and many shops make their own noodles by hand. Enjoy the classic taste of the Tsugaru region.
Owani Onsen Ramen (Owani Town)
This ramen dish is a famous specialty of Owani Onsen Hot-Spring Village. It is topped with Owani Onsen bean sprouts, a local vegetable that has been cultivated for hundreds of years using only heat and water from the hot springs. The bean sprouts feature a unique aroma, crunchy texture, and delicious flavor that go perfectly with ramen noodles.
Photo Credit

Yamazaki Shokudo

Address

青森県南津軽郡大鰐町大鰐前田34-21

Telephone Number

0172-48-2134

Opening Times

Mondays and Saturdays: 11:00 a.m. to 2:00 p.m.

Tuesdays through Fridays and Sundays: 11:00 a.m. to 3:00 p.m.

Website

Immediately outside Owani-Onsen Station on the JR Ou Main Line
In addition to enjoying the authentic experience of dining in a local ramen shop, Aomori's various ramen dishes are also available in packaged form to take home as a souvenir. You can try to recreate the amazing taste at home, and even customize the dishes with your own choice of toppings! Each of the local ramen dishes described above has a unique flavor, but all feature a rich, tantalizing broth that makes the most of Aomori's local ingredients. Why not try them all and discover your own personal favorite?