Get hands-on with local crafts! Aomori craft-making experiences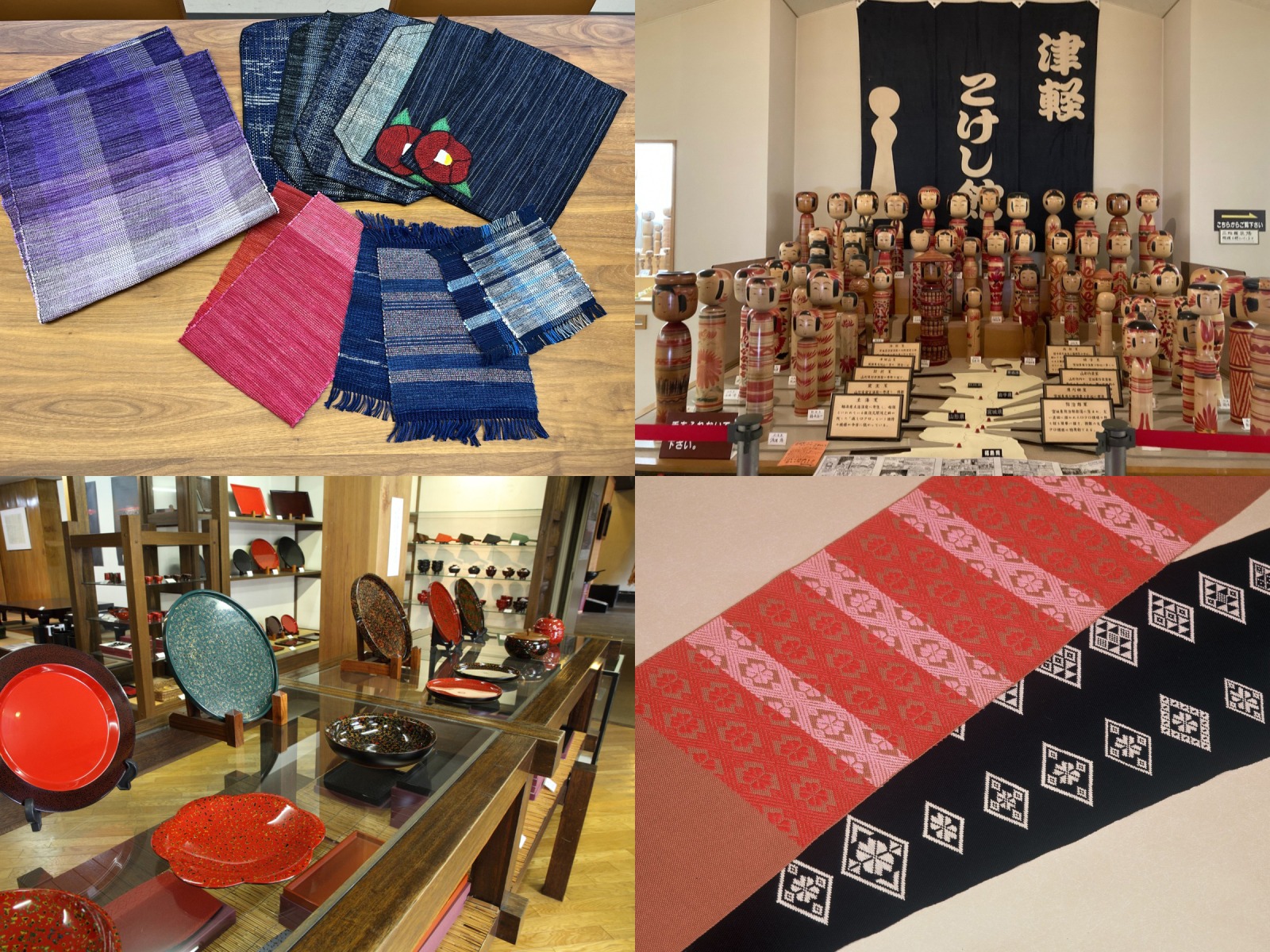 Over the years, the skilled artisans of Aomori have developed distinctive local crafts that combine beauty with functionality. You can read about three of them (Kogin-zashi embroidery, Bunaco woodware, and Tsugaru Vidro glassware) in more detail here. 
In this article, we introduce four more traditional crafts of Aomori, with a focus on ones that you can try out for yourself. Read on to learn more about the unique types of weaving, embroidery, lacquerware, and dollmaking invented by the people of Aomori, as well as where you can experience them yourself.
Nambu Sakiori Weaving and Nambu Hishi-zashi Embroidery
Nambu Sakiori is a traditional "rag-weaving" technique devised by the thrifty people of the Nambu region to conserve fabric, a precious resource. Old rags and worn-out kimonos are finely torn apart into strips, which are then used as the woof (crosswise) threads for weaving. Cotton threads in four colors are used as warp (vertical) threads, resulting in colorful textiles with a homey feel. This technique is now used to make products like handbags, pouches, and slippers. A large Nambu Sakiori tapestry with a design of the Hakkoda Mountains is on display in the concourse of Shichinohe-Towada Station on the Tohoku Shinkansen, showing how this woven craft is the pride of the region.
Nambu Hishi-zashi embroidery, like the Kogin-zashi embroidery of the Tsugaru region, is a kind of sashiko or traditional Japanese reinforced stitching technique developed during feudal times. The cold climate of the Hachinohe area only allowed for the cultivation of hemp, which produced linen cloth that was insufficiently protective during the harsh Aomori winters. Thus, the inhabitants of local farming villages devised this embroidery technique to make clothing more durable and warmer. The name of the craft derives from the fact that it often uses a diamond or rhombus pattern, which is called hishi in Japanese. Nowadays, patterns such as plum blossoms and arrow feathers are also common.
At Youtree (VISIT Hachinohe) next to JR Hachinohe Station, visitors can try making a Nambu Sakiori vase mat or a Nambu Hishi-zashi coaster. Both experiences take about two hours and cost 1,200 yen, including the cost of materials (prior reservation required; instruction in Japanese only).
A traditional craft with a history dating back about 300 years, Tsugaru-nuri is a technique in which wooden objects are covered with numerous layers of lacquer in different colors. This lacquer is then polished away little by little to reveal unique, "cloud-like" designs. The incredibly painstaking process can include as many as fifty individual steps.
A simplified version of this process can be enjoyed at the Tsugaru Traditional Craft Center in Kuroishi City. With a prior reservation, visitors can decorate items such as chopsticks or pendants (both 1,500 yen). The process begins with the item lacquered in a top color—you can choose between red or black. Starting with a rougher grain and progressing to a smoother one, the item is rubbed with sandpaper in different grains to reveal the beautiful, almost pearlescent colors beneath. Along the way, the item is dipped in water to clean off the scraped-away lacquer. Finally, it is polished to a gleaming finish. Tsugaru-nuri chopsticks are safe to use as eating utensils and make a wonderful gift.
A Tsugaru-nuri lacquering experience is also available at Tsugaru-han Neputa Village in Hirosaki City. At its "Tsugaru Craft Center" located inside a historic rice storage building, visitors can lacquer chopsticks, a hand mirror, a spoon, or a sake cup (all 2,200 yen except for the sake cup, which costs 3,800 yen; experience is estimated to take about one and a half hours).
Nuruyu Kokeshi Dolls (Tsugaru Kokeshi Museum)
Originally a children's toy, wooden Kokeshi dolls have come to be appreciated by people of all ages as a beautiful traditional craft. Many varieties of Kokeshi dolls are produced throughout the Tohoku region, each with their own characteristic designs and shapes. Nuruyu Kokeshi dolls are the traditional Kokeshi dolls of the Tsugaru region, distinguished by their curvy bodies, arched eyebrows, and sharp gaze.
At the Tsugaru Kokeshi Museum located adjacent to the Tsugaru Traditional Craft Center in Kuroishi City, you can paint a precut, unvarnished doll with the design of your choice starting from 1,200 yen (prior reservation required; instruction in Japanese only). Materials such as paint, ink, and markers are available. If you lack inspiration, you are sure to find some from the thousands of Kokeshi dolls on display in the museum. Reference images are provided if you would like to model your doll after the traditional Nuruyu Kokeshi, or you may wish to opt for a more unconventional design and paint the doll with the face of your favorite anime character! The choice is entirely up to you.
Kokeshi doll painting can also be experienced at the "Tsugaru Craft Center" of Tsugaru-han Neputa Village in Hirosaki City (1,500 yen; experience estimated to take about one hour).
The traditional crafts of a region reflect its unique history, culture, climate, and topography. Trying your hand at one of Aomori's local crafts will not only provide you with a beautiful souvenir to take home for yourself or to give to someone as a gift, but also bring you closer in touch with the spirit of Aomori and the people who call this amazing region home.