Beautiful and unique local crafts of Aomori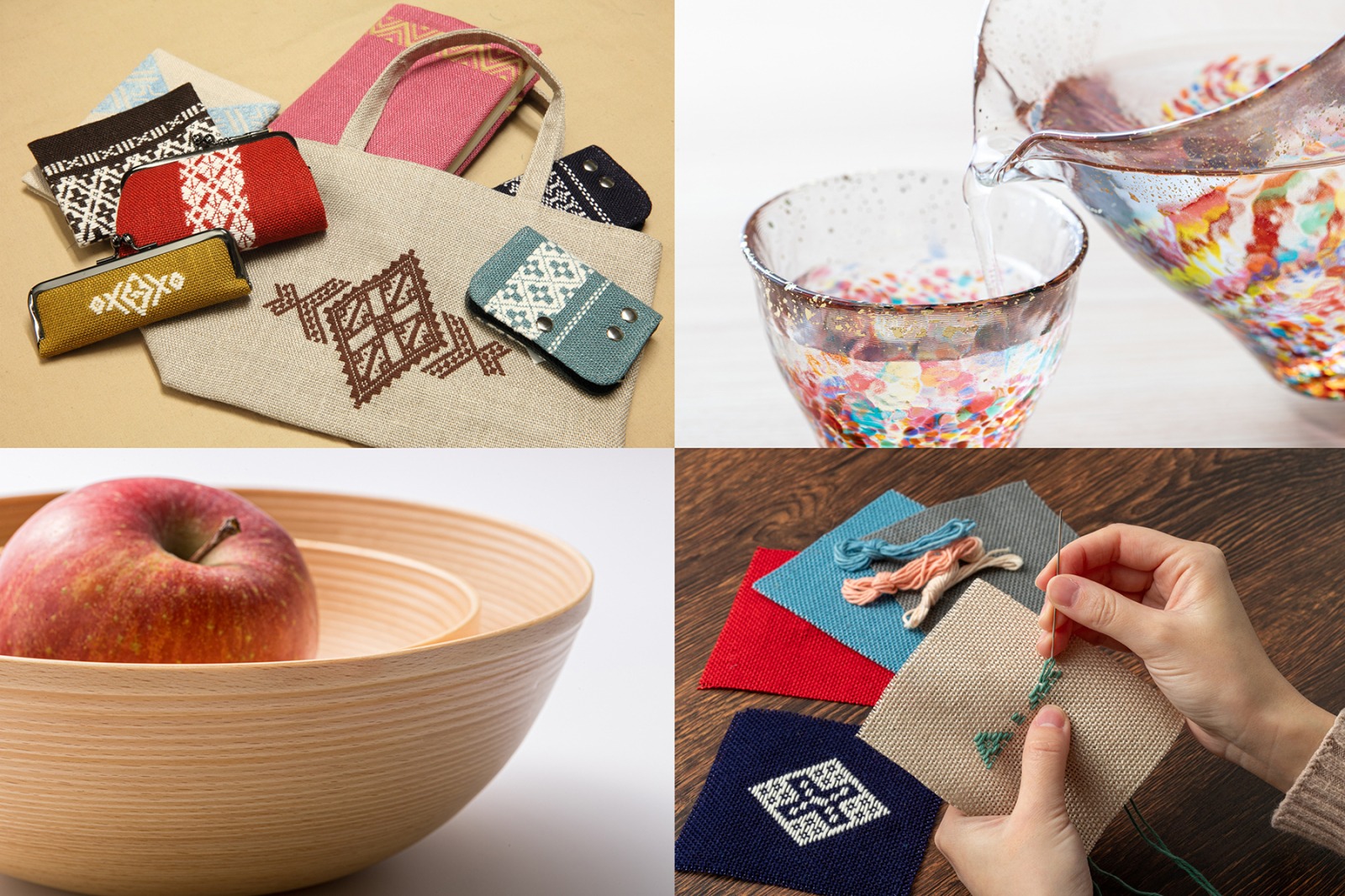 Over the years, Aomori artisans have developed distinctive local crafts that are both elegant and functional. Whether purchasing them as souvenirs for yourself, giving them as gifts to acquaintances and loved ones, or even trying your own hand at making them, there's sure to be an Aomori craft that captivates you. Read on to learn more about three representative local crafts in the genres of embroidery, woodworking, and glassware and to find information on places in the region where you can purchase and experience a wide variety of traditional handicrafts.
Kogin-zashi: Stylish needlework born from the struggle for survival during harsh winters
Kogin-zashi is a kind of sashiko or traditional Japanese reinforced stitching technique born about 300 years ago during Japan's Edo period. In these feudal times, peasants were not allowed to wear cotton clothing. Since linen was not sufficiently durable or protective during the frigid winters of the Tsugaru region, the peasants took to stitching cotton threads into their coarse linen work clothes, known as kogin, in order to bypass these regulations. The embroidery reinforced the loose weave of the fabric and also trapped air inside, providing insulation against the harsh cold. Over time, women living in farming villages, who were snowbound for much of the year, developed Kogin-zashi into a decorative art with intricate geometric patterns.
The designs of Kogin-zashi are hand-stitched one by one with an embroidery needle and thread. Small horizontal running stitches are made into loosely woven fabric while counting the number of warp (vertical) threads. The traditional patterns, such as cat's eyes, stone steps, flowers, cows, and fish scales, show connections to everyday life and nature in the Tsugaru region.
Kogin-zashi items like coin purses and business-card holders make great gifts and can be purchased at locations including the Hirosaki City Tourist Center and Tsugaru-han Neputa Village in Hirosaki City. The Hirosaki Kogin Institute, also located in Hirosaki City, is an organization dedicated to the preservation of and research into Kogin-zashi. In addition to observing artisans at work, visitors can also check out a selection of goods such as buttons, handbags, book covers, and coasters.
Bunaco: Fine woodware utilizing Aomori's abundant natural resources
"Bunaco" refers to crafts made from the wood of the beech tree, which is called buna in Japanese and grows abundantly in the forests of Aomori. Despite its exceptional flexibility and strength, beech wood warps easily, so it was formerly considered unsuitable for woodworking. However, a special technique was developed in Aomori Prefecture in the 1950s to make use of this plentiful resource. The wood is cut into narrow strips as thin as just one millimeter, which are then rolled and slid a little at a time into elegant coil-based shapes. This technique reduces cracking and distortion while making the most of the beautiful texture of beech wood in the finished product. In addition, compared to conventional woodworking techniques in which the product is carved from a large block of wood, this technique generates almost no waste, making it an environmentally friendly production method. It is used to create products with simple yet modern designs that add a touch of the unique warmth of wood to interiors.
A wide variety of Bunaco woodware products, including bowls and utensils, tissue boxes, lamps, and even the famous "Faggio" wooden speaker, are available for viewing and purchase at Bunaco Showroom "BLESS" in Hirosaki City. In addition, classes in which participants can experience making their own Bunaco-style bowl by hand are offered at the Bunaco Nishimeya Factory in Nishimeya Village (Japanese only; contact the factory for details regarding fees and reservations).
Tsugaru Vidro: Colorful glassware representing Aomori's four seasons
Tsugaru Vidro, derived from the Portuguese word for "glass," is a kind of handmade glassware that has its roots in Aomori's fishing industry. Hokuyo Glass, a manufacturer located in Aomori City, initially made glass balls to keep fishermen's nets afloat. However, demand for glass fishing gear declined with the advent of cheaper plastic materials, so the company instead applied its glassblowing techniques to everyday items such as vases and dishware. Although the original glass floats were made from uncolored glass, one day an artisan accidentally added sand from the shore of Aomori's stunning Shichiri-Nagahama Coast to the mixture, resulting in a beautiful deep green color. Thanks to the popularity of this colored glass, Tsugaru artisans soon developed ways to create a wide variety of other hues.
The colorful designs of Tsugaru Vidro glassware are inspired by the scenery of Aomori's four reasons—the soft pinks of cherry blossoms in Hirosaki Park in spring, the bold colors of Nebuta Matsuri festival floats in summer, the hues of the changing leaves around Lake Towada in autumn, and the snow-blanketed slopes of Mount Hakkoda in winter. One of the techniques used to create Tsugaru Vidro is mouth-blowing, in which molten glass is inflated to the desired shape using a blowpipe. Although this technique gives the artist a great deal of freedom in shaping the glass, it requires an extremely high level of control and skill.
There are several convenient places to find many different Aomori crafts gathered under a single roof. One is Aomori Tourist Information Center "ASPAM" in Aomori City. The facility contains shops selling Bunaco woodware, Kogin-zashi embroidery, and Tsugaru Vidro glassware, along with Tsugaru-nuri lacquerware, Yawata horse figurines, Nambu Sakiori weaving, and Nuruyu Kokeshi dolls. Demonstrations of Kogin-zashi needlework by real artisans are also held on the second floor.
The Hachinohe Portal Museum "hacchi" in Hachinohe City features permanent exhibits on traditional crafts such as Yawata horse figurines and Nambu Sakiori weaving. The building also contains shops where visitors can purchase local arts and crafts such as Tsugaru-nuri lacquerware as well as other exclusive souvenirs.
Another facility dedicated to various traditional crafts is Tsugaru-han Neputa Village in Hirosaki City. In addition to souvenirs available for purchase at the gift shops, its "Tsugaru Craft Center" located inside a historic rice storage building offers demonstrations of Kogin-zashi embroidering as well as a variety of hands-on craft-making workshops, including painting your very own Tsugaru kite or Kokeshi doll.