Tsugaru Westcoast 2-Day Trip
Suggested Time

2 days / 1 nights
Transport Options

Train, Drive
Season

All year around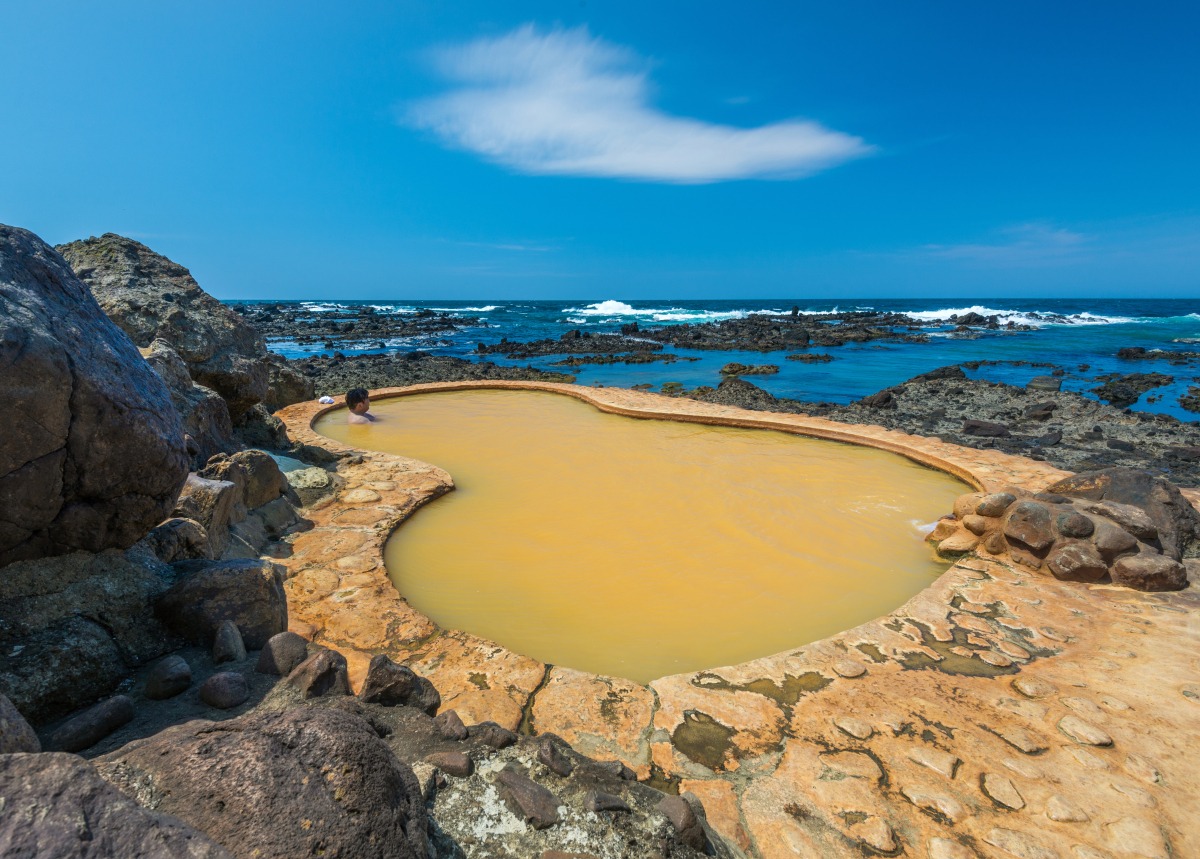 Soak in the outdoor hot springs with magnificent scenery, and also see the world natural heritage sites.
Relish Tsugaru's unique nature and culture.
Witness the world natural heritage site,and relax in the outdoor hot spring bath while seeing the gorgeous sunset. The drive route lets you see Tsugaru's characteristic culture as well as scrumptious foods.
Start
Day1
Tachineputa no Yakata (Tachineputa Museum)
Goshogawara Tachineputa Festival is one of the four largest summer festivals held between August 4th and 8th. At the Tachineputa no Yakata, three real tachineputa are exhibited. The three neputa begin their parade from the museum.
The exhibition hall is an atrium with an incline around the 23-meter (75 feet) tachineputa so visitors can see it from top to down. Footage from the festival is shown at the exhibition hall. Additionally, visitors can see the making of the tachineputa at the production studio.
The gallery of the museum holds paintings from artists with connection to Aomori. The museum also has a souvenir shop, a restaurant, an observation lounge, and an experiencing room where visitors can make kingyo neputa (goldfish neputa).
Experiencing the Making of Tachineputa
At the Tachineputa production studio, visitors can experience making the tachineputa, including pasting the paper and coloring. Applications can be made on the day of the visit.
*Available for a limited time (Mid-April to Mid-June)
*Advance reservation required for groups larger than 10 people.
Address

五所川原市大町506-10

Telephone Number

0173-38-3232

Opening Times

9:00~21:00
[Tachineputa Exhibition Hall/Art Gallery]
(April~September) 9:00~19:00, (October~March) 9:00~17:00
*Special Hours
August 4th ~ 8th 9:00~17:00, August 13th 9:00~19:00, December 31st 9:00~15:00

Closures

January 1st (May be open. Contact us for details)
Shayokan: Dazai Osamu Memorial Museum
This is a roof purline building built by Gen-emon Tsushima (Osamu Dazai's father), who was a large landowner during the Meiji Era. Work was completed in June 1907. Cypress wood was used for all structures, including the rice storehouse. It has 11 rooms with an approximate area of 917 square meters on the first floor, and 8 rooms with an approximate area of 383 square meter on the 2nd floor. It is a grand mansion extending over an area of approximately 2244 square meters, with attached buildings and a Japanese garden with ponds.
Address

五所川原市金木町朝日山412-1

Telephone Number

0173-53-2020

Opening Times

May - October: 8:30 a.m. - 6:00 p.m. (Admission until 5:30 p.m.)
November - April: 9:00 a.m. - 5:00 p.m. (Admission until 4:30 p.m.)

Closures

December 29th
Tsuru-no-Mai Bridge
Tsuru-no-Mai Bridge passes over the Tsugaru Fujimi Lake with a reflection of Mt. Iwaki. The bridge, with total length of the bridge is 300 meters, is the Japan's longest triple arch wooden bridge. It was built using more than 700 Aomori Hiba, especially those of over 150-year old, for bridge girder by Japan's architectural technique from old days.
The bridge view looks like as if crane is flying with background of Mt Iwaki. Also it is said that visitors who walks across the bridge will have a long life.
Address

北津軽郡鶴田町鶴田町廻堰字大沢

Telephone Number

0173-22-2111
Day2
World Heritage Site, Shirakami Sanchi
Shirakami Sanchi is a general term used to refer to the massive 130,000ha (501 square miles) mountainous land extended over Aomori and Akita prefecture. In December 1993, it became the first Japanese World Heritage Site along Yakushima in Kagoshima prefecture. There are only four natural heritage sites in Japan: Shirakami Sanchi of Aomori and Akita; Yakushima of Kagoshima; Shiretoko of Hokkaido; and Ogasawara Islands of Tokyo.
Shirakami Sanchi has been sheltered from human influence, maintaining its original shape with massive primeval beech trees. The forests of Shirakami Sanchi are home to precious rare animals and plants such as black woodpeckers and golden eagles.
Enjoying the Nature of Grand Shirakami Sanchi
In the towns of Fukaura or Ajigasawa, and the village of Nishimeya there are a few of the entrances to the forests of Shirakami Sanchi in Aomori. Visitors can climb mountains, trek through the beech forest, or meet locals around Shirakami Sanchi. This type of green tourism where visitors meet with nature and people is gaining popularity.
Some popular locations for visiting the Shirakami Sanchi are the Anmon Waterfall in Nishimeya-mura, the mother tree of Tsugaru Toge (Tsugaru pass), the Kurokuma Waterfall in Ajigasawa, and Lake Juniko in Fukaura.
Shirakami Sanchi Visitor Center
Visitors can learn about the natural environment of Shirakami Sanchi and its relation with people.
Address
61-1 Kanda Tashiro Nishimeya-mura Nakatsugaru-gun Aomori-ken 036-1411
Contact
0172-85-2810
Dates Closed
April through December – Every second Monday (the following day when it falls on a holiday)
December 29th to January 3rd
Admission Fee
Free(There is a charge for viewing large screen films)
URL
(Japanese)https://www.shirakami-visitor.jp/index.html
AquaGreenVillage ANMON
This facility has a general information center, onsen (hot spring), cottages, camp sites, and large play areas.


Address

西目屋村 鰺ヶ沢町 深浦町

Telephone Number

0172-85-2622
Senjojiki Coast
Senjojiki Coast, facing to the Sea of Japan, is a bedrock beach formed with the uplifting of land due to an earthquake in 1792. The rock shelf of approximately 12 kilometers, on which the lord of the area had 1,000 tatami mats laid out for a party, sweeps along the coast.
Visitors can enjoy the view from JR's resort train "Resort Shirakami", which will slow down when it comes to close the coast.
The view at sunset time is magnificent and is selected as one of the "100 best sunsets in Japan".
Address

西津軽郡深浦町北金ケ沢

Telephone Number

0173-74-4412

Opening Times

The beach season starts beginning of July and lasts until middle of August. *Depending on weather, schedule is subject to change.
Koganezaki Furofushi Onsen Hotel
The ultimate feeling of liberation in a gourd-shaped outdoor bath right on the seashore!
Soaking in this outdoor bath right on the seashore is a unique experience that you won't find anywhere else! The best time to enjoy it is at sunset, when the sky gradually takes on a reddish tinge and the crimson evening sun slowly sinks below the horizon. Gazing at this spectacular sight while soaking in the bath is the ultimate in luxury. Since the seaside outdoor bath is only open to day visitors until 4:00 p.m., when the sun is still high in the sky, an overnight stay is recommended to fully enjoy this luxury. The dinner with plenty of locally caught seafood is another draw.
In addition to the gourd-shaped outdoor bath, which is mixed sex, there is also a round outdoor bath for women only. When including the indoor baths for men and women respectively, there are four baths in total, all of them 100% natural hot-spring baths with water flowing fresh and untreated from the source.
The name of the hot spring comes from the Japanese word furofushi meaning "immortality," derived from the local saying that "anyone who enjoys the benefits of these waters will never grow old or sick." Due to oxidation of its iron content, the water is such a dark reddish brown that the bottom is not visible. Since this distinctively colored water is so rich in iron and salt, it will warm you from the inside out, keeping you from feeling chilly after bathing.
Address

西津軽郡深浦町大字舮作字下清滝15

Telephone Number

0173-74-3500

Opening Times

Day visits:
8:00 a.m. to 8:00 p.m.

The seaside outdoor bath closes at 4:00 p.m. (last entry at 3:30 p.m.).

Closures

None
Goal