Drive around the Shimokita Peninsula! Let's go eat tuna in Oma!
Suggested Time

2 days / 1 nights
Transport Options

Drive, Boat
Season

Spring / Summer / Autumn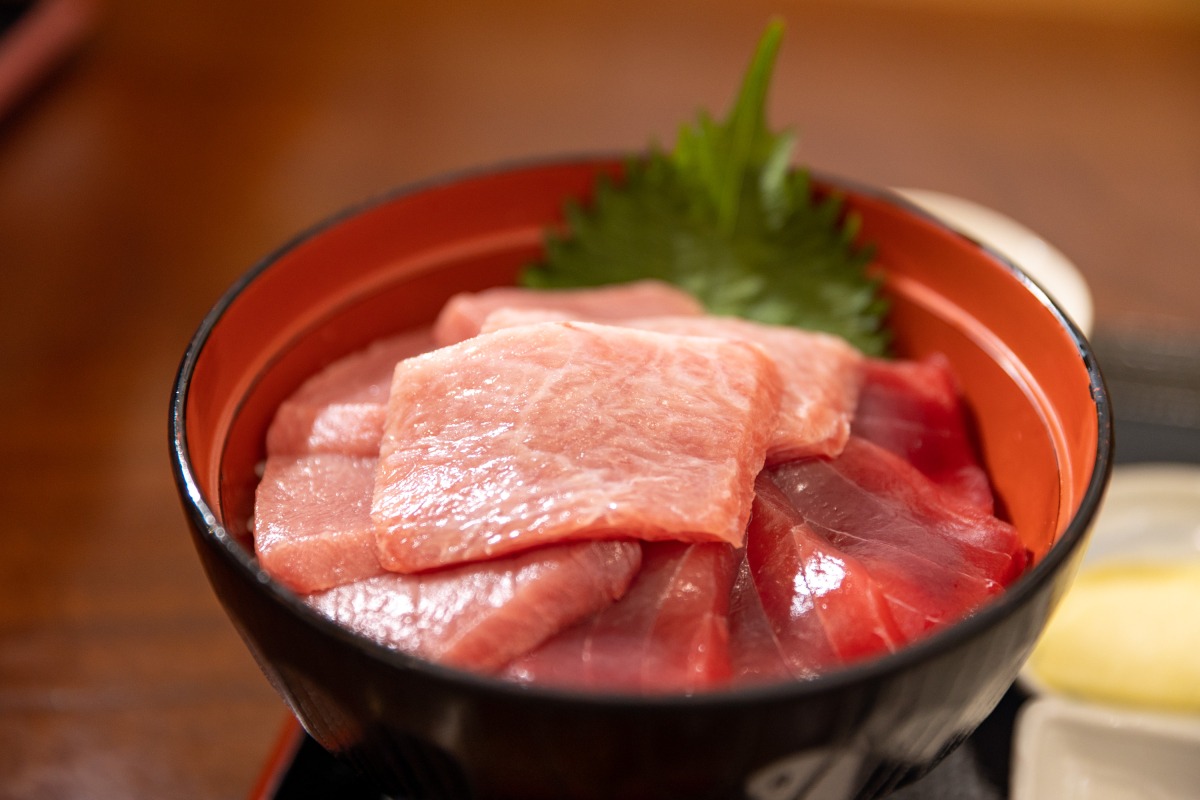 Oma Town is known as the "Tuna Town".
Introducing a course that goes around the Shimokita Peninsula to eat fresh "Oma tuna" that can only be eaten here.
Start
Day1
Shiriyazaki Lighthouse
Cape Shiriyazaki is part of Shimokita Hanto Quasi-National Park. As the northern most east edge of Honshu, it features many wetlands and treasured rare flowers and mountainous plants. Built in 1901, the Shiriyazaki Lighthouse was the first electric lighthouse. It was selected as one of the top 50 lighthouses of Japan and is the local symbol.
Address

下北郡東通村尻屋字尻屋崎1-1

Telephone Number

0175-47-2889
Osorezan Reijo
Osorezan has been considered a sacred mountain for over 1,100 years ago since Jikakutaishi of Tendai Buddhism established it as a place of worship in 862.
Osorezan, also known as Usoriyama, is considered one of the three most sacred mountains in Japan, along with Koyasan and Hieizan.
The beauty of Chinoike Jigoku, Juuzai jigoku, Jigokudani, Sai no Kawara, Gokurakuhama and Sanzu no Kawa perfectly matches with Usoriyama Lake as the foliage around it changes color with the coming of the seasons.
Address

むつ市大字田名部字宇曽利山3-2

Telephone Number

0175-22-3825
Shimofuro Onsenkyo Hot Spring Village
Shimofuro Onsen Hot Spring is the northern-most hot spring in Honshu, and there are about dozen each hot spring hotels and Japanese guest homes. This hot spring spot faces Tsugaru Straits. As with all hot springs near the ocean, the inns and guest homes here are popular among gourmets for the fresh seafood they serve. Enjoy a warm bath within view of the severe winter of the Tsugaru Straits.
Address

下北郡風間浦村下風呂

Telephone Number

0175-35-2010
Day2
Quasi-National Park, Cape Oma
The black and white Oma Cape Lighthouse stands on Benteto Island of Oma Cape, which is designated as part of Shimokita Hanto Quasi-National Park. The Oma Cape Lighthouse has been chosen as one of the top 50 lighthouses of Japan. During the tuna fishing season (July-January), pole-and-line fishing boats can be seen from the cape.
Cape Oma is located on the northern most part of Honshu. On clear days, the city of Hakodate in Hokkaido can be seen across the ocean. Oma's city symbol is a tuna pole-and-line fishing statue and a stone monument marking the northern most point of Japan's main island, Honshu.. A common kitchen, free rest place (April-October), tent sites (free) are available nearby.
A 90-minute Ferry Ride to Hakodate
Oma is 17 km (10 miles) from Hakodate, a 90-minute ride on a ferry. Visitors can easily enjoy both Shimokita Peninsula of Aomori prefecture and the Donan, the southern region of Hokkaido.
Address

下北郡大間町大字大間平17-1

Telephone Number

0175-37-2111
Hotokegaura
Nearly 20 million years ago, deep sea volcanic activity created a precipice of green volcanic tuff around the current village of Sai in the Shimokita peninsula. Over many years, the rough waves of Tsugaru Channel eroded the precipice turning it into a fantastically shaped rock formation that goes on for 2 km (1.2 miles) along the coast.
The rocks have been named after Buddha, thus the name Hotokegaura (Buddha's Cove).
In 1934, a stretch along the coast of Hotokegaura was designated as an Aomori Natural Monument, and additionally as a national place of scenic beauty and a National Natural Monument in 1941.
A Jizodo (a hall dedicated to Jizo Bosatsu) is built on the Hotokegaura beach, where the Hotokegaura Festival is held for worship on July 24th every year.
Tsugaru Channel Cultural Center "Arusasu"
Arusasu is a tourist, cultural and industrial spot in Sai village. The regular ships and tourist boats to Hotoge-ga-ura depart from here, from Arusasu.
| | |
| --- | --- |
| Address | 112 Osai, Sai-mura, Shimoita, Aomori 039-4711 |
| Contact | 0175-38-4513 |
| Hours of Operation | 6:00~17:45(April-October) 8:30~16:30(November-March) |
| Closed Days | None |
| Admission Fee | Free |
| URL | Blog(Japanese) |
Address

下北郡佐井村長後 縫道石国有林地内

Telephone Number

0175-38-2111
Goal