Aomori Art Trip-Southern Area-
Suggested Time

2 days / 1 nights
Transport Options

Bus, Walk
Season

All year around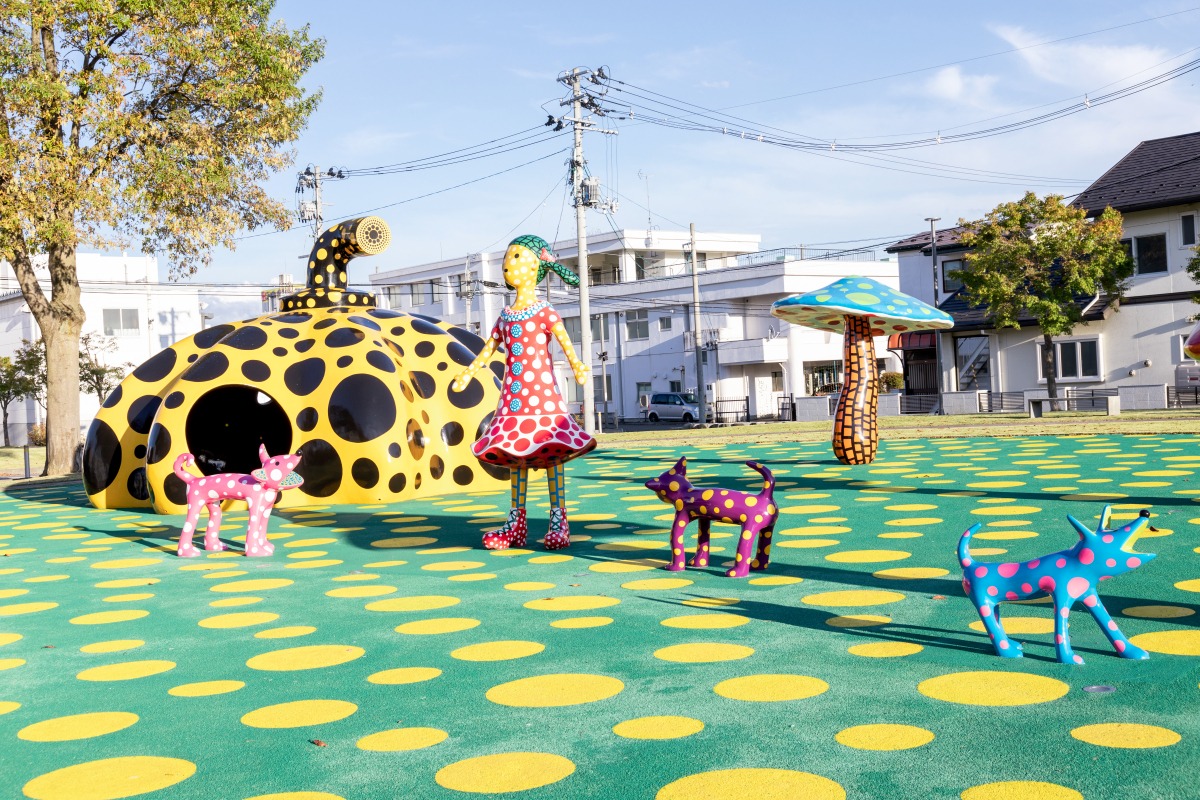 A course that goes around two of the five museums in Aomori Prefecture, the Towada Art Center and the Hachinohe Art Museum.
Recommended for those who want to enjoy sightseeing mainly in the southern area.
Enjoy local gourmet food for lunch.
Start
Hachinohe Art Museum
"Hachinohe Art Museum" in Hachinohe City, Aomori Prefecture, renewed and opened November 3, 2021. The Museum locates in the city center, and it has a grand square in front of the building where the citizens feel free to stop by.
The visitor will meet the artist's work relating to the area or introduce the Hachinohe's culture at the Museum. Furthermore, it will hold an exhibition or project that incorporates the town project or learning for visitors to participate in and enjoy.
Accompany with reopening the Hachinohe Art Museum, a project, "Aomori 5 Art Museum Network," has been initiated to spread the charms of Aomori's art at home and abroad with collaborating of five-public-museum in the prefecture.
It is rare to have five public art facilities in one prefecture. So, Aomori gathers attention as the "prefecture of art."
Address

八戸市大字番町10-4

Telephone Number

0178-45-8338
Hachinohe Ramen Noodles
These ramen noodles have been a popular food among residents of Hachinohe City since the earlier half of the twentieth century. The noodles are thin and curly, while the broth is soy-sauce-based and incorporates the extracts of local sardines, chicken bones, and pork bones for a light but full-bodied flavor.
Address

八戸市

Telephone Number

0178-43-5111
Hachinohe Portal Museum "hacchi"
At the Hachinohe Portal Museum "hacchi", over 200 of "Yawata-uma", a traditional craft made by the prefectural traditional craftsman, Nojiro Okubo will welcome you at the entrance. The facility has exhibition booths in the form of yatai (stall) for local foods, festival, history and culture, and also morning markets and yokocho (alleyway off the main street, usually there are shops and dining, etc.). Visitors can find Hachinohe's attraction through the year.
Furthermore, there are café, shops selling original items, exhibition and shop of local arts and crafts. It is the place to feel the heart of northern region, Hachinohe, through the communication with locals.
Address

八戸市三日町11-1

Telephone Number

0178-22-8228

Closures

Second Tuesday of the month (following day will be closed when Tuesday is national holiday), December 31st and January 1st.
Hachinohe Yatai Mura (Food Stall Village)-Miroku Yokocho
Miroku Yokocho is located in the city center of Hachinohe. It is a little part of town with around 26 food stalls. Each shop serves a local menu such as fresh seafood from the Hachinohe port and Senbei-jiru (a traditional hot pot in which locally made crackers are cooked along with vegetables and meats) as well as typical Japanese bar (izakaya) food and ramen. The food stalls have an open atmosphere and are a popular spot for tourists.
How to Enjoy Miroku Yokocho
On both sides of a narrow retro street, small stalls accommodating around eight people each are lined up tightly next to one another. One of the exciting things about Miroku Yokocho is meeting and chatting with strangers at the stalls. While enjoying one stall thoroughly is fun, stall-hopping is a great way to take advantage of the diverse styles of cooking in Miroku Yokocho.
Address

八戸市三日町と六日町の間

Telephone Number

0178-29-0815

Opening Times

Hours vary by stall

Closures

Days closed vary by stall.
Towada Art Center
Address

十和田市西二番町10-9

Telephone Number

0176-20-1127
Towada Barayaki
Towada Barayaki is a dish of cow ribs with many sliced onions seasoned with sweet & spicy soy sauce grilled on a hot plate. It is said to be started among Korean immigrants to Misawa-City, shortly after the war they came up with this recipe to make a delicious dish from cheap cow ribs sold off from the US military. Barayaki born in Misawa is definitely a soul food of locals around Towada area.
Address

十和田市

Telephone Number

0176-25-7758
Goal