A Winter Trip to Oirase Gorge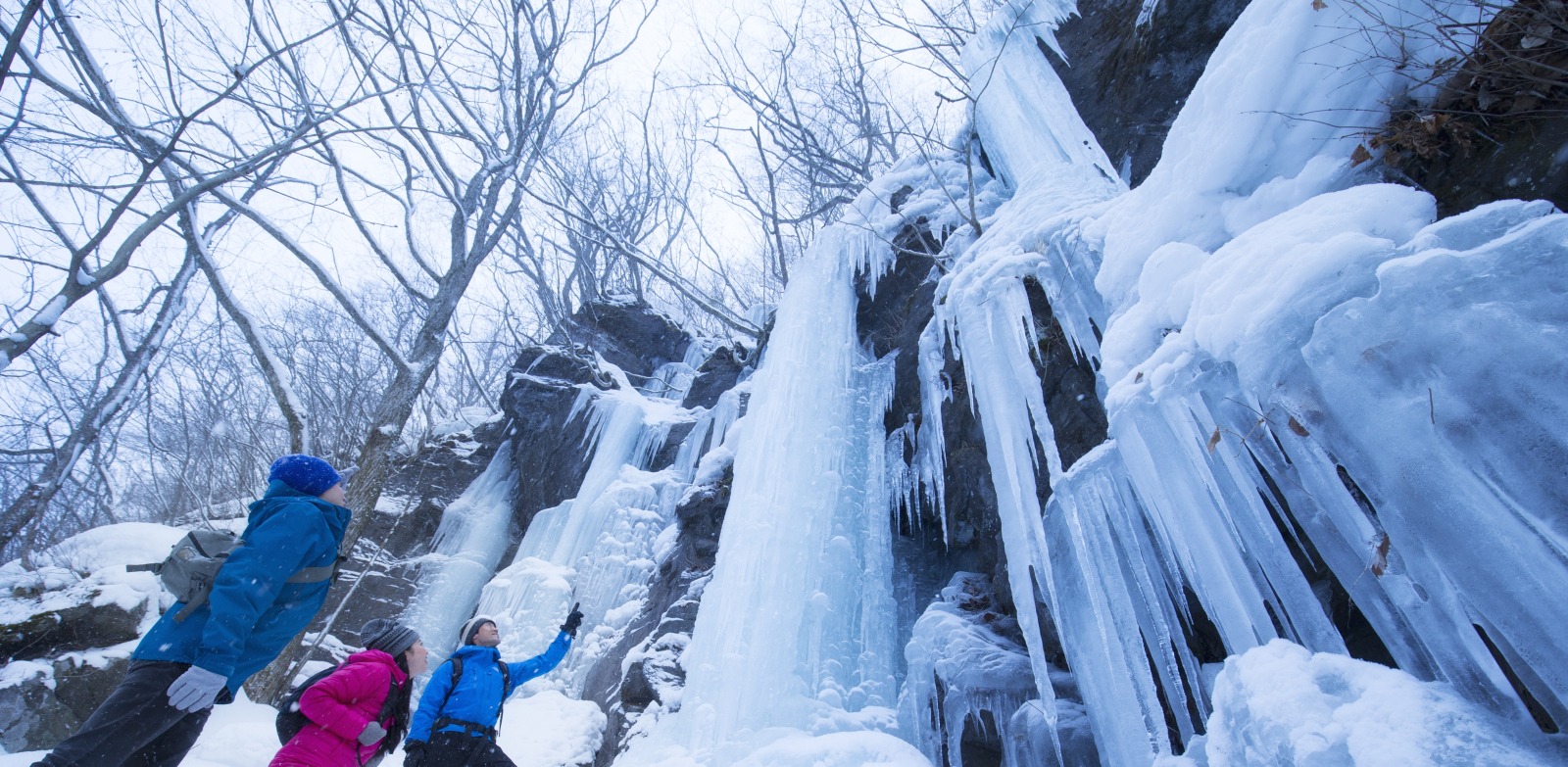 Breathtaking in its fantastic beauty: Oirase's icicles
The Oirase Gorge is a valley that starts at Lake Towada and stretches for about 14 kilometers.
It is one of the most popular tourist spots in Aomori, with fresh greenery in summer and colored leaves in autumn.
In winter, Oirase is covered with ice from the freezing temperatures making for a world where time seems to have stopped.
Find fourteen waterfalls scattered along the mountain stream which are frozen — these giant icicles can be enjoyed by visitors.
As well as the waterfalls in the canyon, the water gushing from the cliffs—such is Oirase's sheer abundance of water—are also turned into icicles, creating an icy art scene.
Of all the waterfalls, the Choshi Otaki, which represents the Oirase Geyser, is the most impressive.
The 20-meter wide waterfall turns into ice, creating a world that looks like it has been cut out of a painting.
The shape of this natural icicle is not the same every year, and it varies from day to day.
The view you can see here is a once-in-a-lifetime experience: there is no guarantee that you will see it again the following year.
Next is Kumoi Waterfall.
The water falls in three stages with a drop of about 20 meters, showing off the majestic nature of the waterfall, and in winter, the waterfall turns to ice so beautifully that we forgot about the cold.
You can even proceed to the waterfall basin — which is not possible in summer.
In winter, ice and snow create a foothold, and you can go so close to the falls to be able to almost touch them. This is a unique way to enjoy winter.
The "Oirase Icefall Night Tour in Winter" allows you to experience the scenery at Oirase Stream at night.
The tour takes you around Oirase at night by bus with a guide, and the 'icefall' is illuminated,, making it look more powerful and glowing blue and green.
The mysterious sight—that can only be seen in extremely cold weather—will take your breath away.
'Icefalls' are the main way to enjoy Oirase in winter, but in the valley with its untouched natural forest, the contrast of snow and shadows on tree branches and rocks is beautiful, and you will can forget the passage of time in the silence.
The icicles are greatly affected by conditions such as weather and temperature, with the scene changing day by day. It makes for something unique and fleeting.