Enjoy beautiful architecture and tasty refreshments at the same time! Four cafés in the heart of Aomori's cultural and historic locales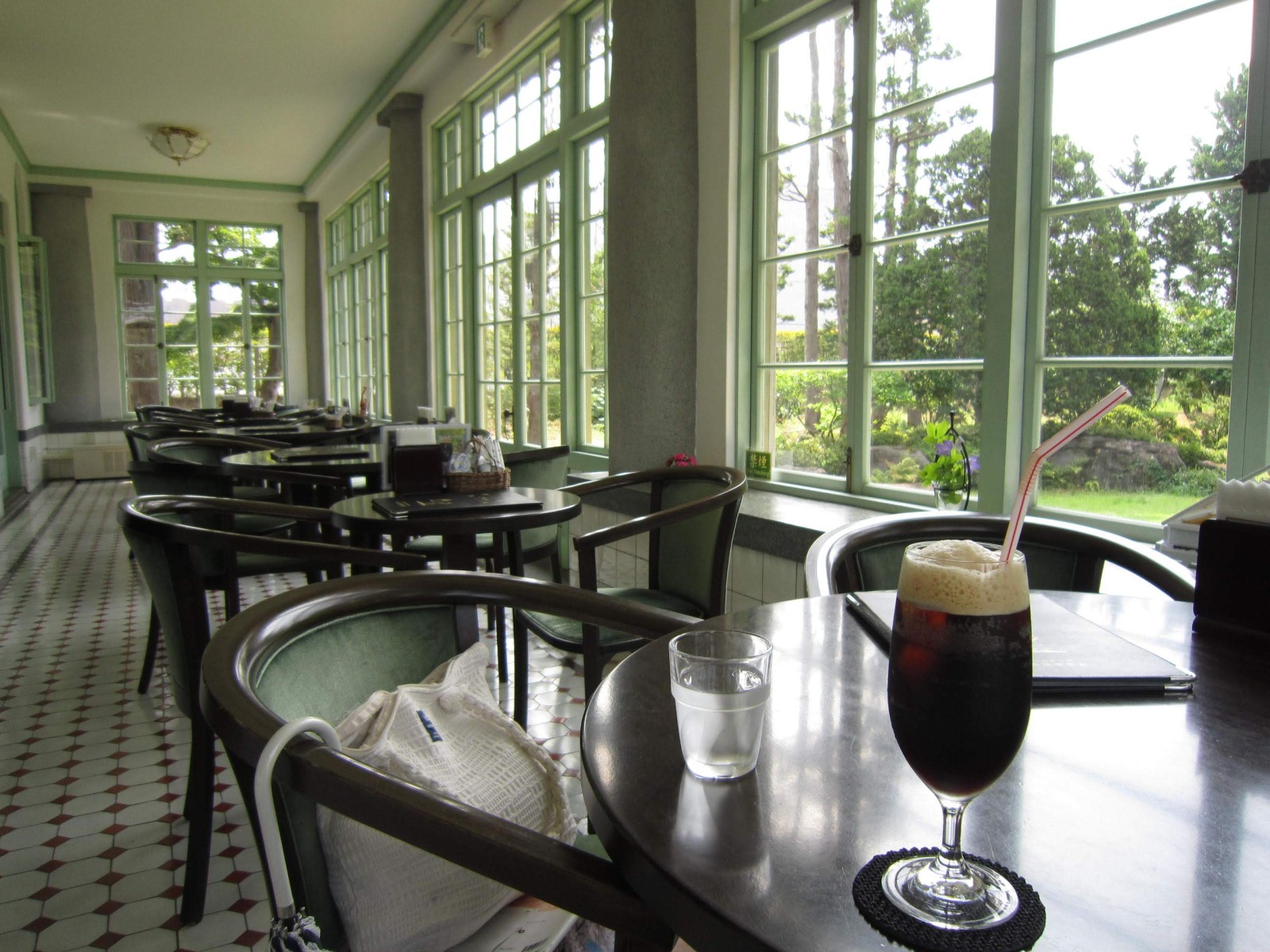 A coffee (or tea) break is a chance to rest and revive yourself on your busy Aomori journey packed with new sights and experiences. This article introduces four cafés that you can conveniently visit while checking out major tourist attractions located nearby. A café is also a perfect chance to sample apple pie or other apple-themed specialties for which Aomori is famous.
Takahashi Family Residence (Nakamachi Komise Shopping Street, Kuroishi City)
The Nakamachi Komise shopping arcade in Kuroishi City is a place where the atmosphere of feudal-era Japan remains alive thanks to the many well-preserved traditional wooden residences and shops dating back to the Edo period (1603-1868). After visiting the district's souvenir shops and breweries, why not stop for a relaxing coffee break at this hidden gem? The over 270-year-old building dating back to the mid-eighteenth century is the residence of the Takahashi family, who prospered as wholesalers of rice and other goods during the Edo period. Nowadays, the historic merchant residence is operated as a café by a descendant of the family, who serves traditional Japanese sweets along with coffee, tea, and other beverages made with natural well water. On sunny days, guests can enjoy the beautiful scenery of the garden.
Salon de Café Ange (Former To-o Gijuku Missionary Residence, Hirosaki City)
Around Otemon Square in Hirosaki City, just across the street from Hirosaki Park and Hirosaki Castle, stand several historic Western-style buildings that were constructed as part of Hirosaki's enthusiastic approach to modernization following the Meiji Restoration of 1868, when Japan ended its period of isolation under feudal rule. One of these historic buildings is the Former To-o Gijuku Missionary Residence, which was constructed in 1900 as a home for the Western missionaries who came to teach at To-o Gijuku, the first private school in Aomori Prefecture. Salon de Café Ange, located on the first floor of the residence, is a great place to relax and enjoy some refreshments after exploring the many closely packed attractions in the castle area. Surrounded by furnishings preserving the atmosphere of the Meiji era (1868-1912), enjoy apple-themed treats like apple pie and apple curry along with a wide selection of coffee and other drinks. Miniature buildings replicating the historic structures of Otemon Square are visible through the windows.
As a sidenote, although the city is more famous for its apples and apple pie, coffee actually has a surprisingly long history in Hirosaki going back about 150 years. At that time, the rulers of Hirosaki ordered local warriors to defend the northern frontier of Hokkaido, and coffee was included in their rations as a medicine to prevent edema. This was apparently the first time that Japanese commoners were permitted to drink the foreign brew.
Taisho Roman Tea Room (Fujita Memorial Garden, Hirosaki City)
At over 21,000 square meters, Fujita Memorial Garden in Hirosaki City is one of the largest Japanese-style landscape gardens in the Tohoku region. The grounds contain a pond with an island, bridges, a waterfall, and a tearoom pavilion, as well as flowers and plants that change throughout the seasons. Near the entrance, you can also find the Western-style and Japanese-style villas of prominent local businessman Ken'ichi Fujita, for whom the garden was originally built. After exploring all that the sprawling garden has to offer, rest and revive yourself at the Taisho Roman Tea Room located in the bright and airy sunroom of the Western-style villa. This elegant building decorated with beautiful stained glass was built in 1921 during what is known as Japan's Taisho period (1912-1926), and the café's name is a reference to the romanticism for which that era is known. This ambience is captured by the café's interior, giving it a "retro" feel.
A highlight of the menu is the wide selection of apple pies representing some of the most popular Western-style confectioneries in Hirosaki City. You choose from among types containing nuts or custard, along with a more classic cinnamon taste. The menu also features other seasonal and often highly photogenic apple-themed treats, such as apple parfaits and apple galettes. For those looking to eat a full meal, more substantial menu options include pasta and beef curry made with Hirosaki apples.
Café Ekisha (Ashino Park, Goshogawara City)
Ashino Park in Goshogawara City is a vast nature park where visitors can enjoy row-boating on Lake Ashino along with romantic views including the sight of over one thousand cherry trees blossoming in late spring. This café is located next to Ashino-Koen Station, the main access point to the park. The charming single-story wooden structure with its distinctive red roof is actually the former station building, which opened in 1930 and appeared in Osamu Dazai's 1944 novel Tsugaru. Although it is now operated as a café, traces of its time as an active station building still remain, such as naked electric bulbs and stairs to the platform. The menu includes classic Japanese café fare such as parfaits, spaghetti, and curry along with more unusual horse meat dishes.
As you may have noticed, each of the cafés described in this article is an architectural space corresponding to a different era of Japanese history: Edo (1603-1868), Meiji (1868-1912), Taisho (1912-1926), and Showa (1926-1989). These unique historical ambiences will add a touch of color to your coffee break and give you a deeper appreciation for the rich culture and history of Aomori.