Michelin Green Guide Spots: Aomori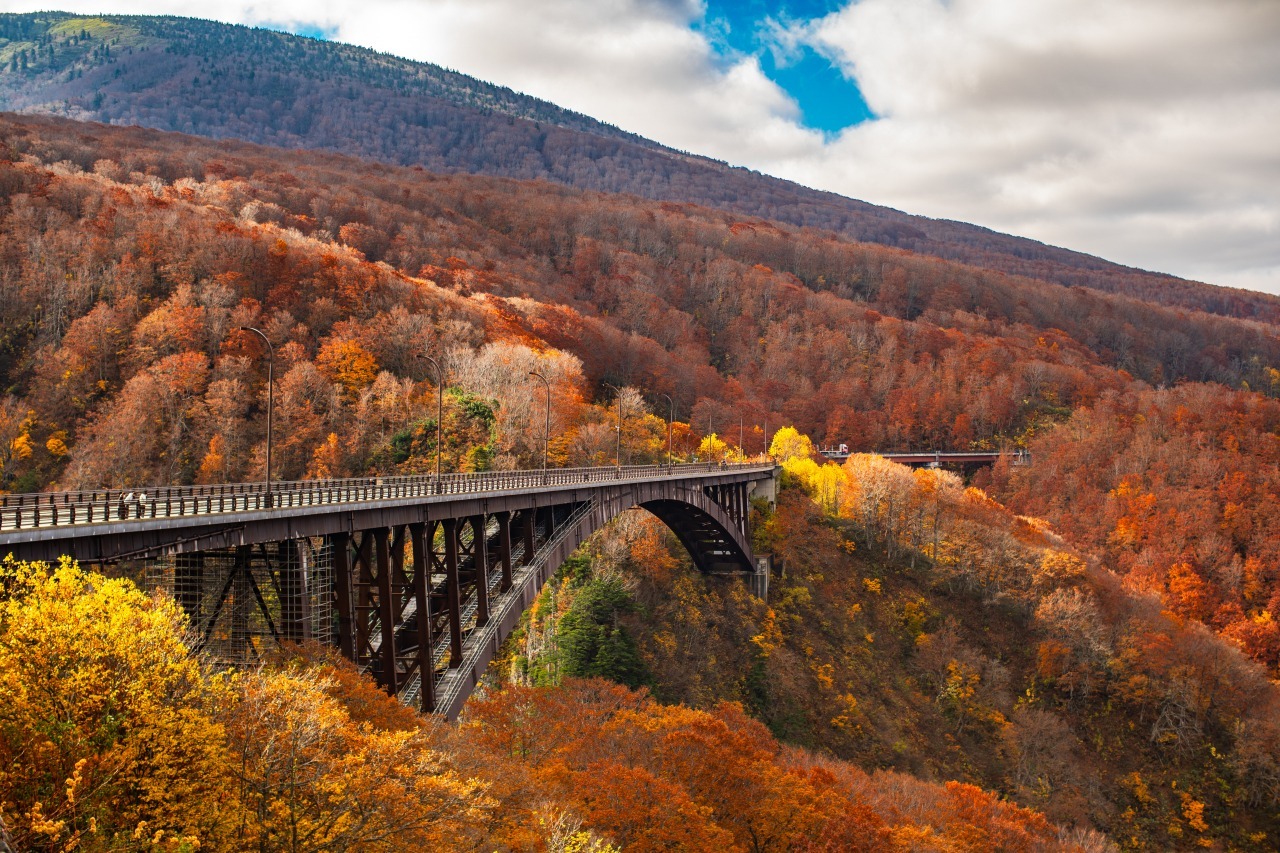 Aomori Prefecture is the northernmost prefecture on Japan's main island of Honshu, and is famous as an apple-growing region full of beautiful nature spots, as well as experiencing exceptionally cold and snowy winters. The Michelin Green Guide is a popular series of guidebooks focused on various regions and recommends places to visit based on a 3-star rating system. Let's find out more about which Aomori spots make the Michelin list here.
Oirase Gorge (2-star) – Wander along a gorgeous forest river-valley
Located on the east side of Lake Towada, Oirase Gorge is a scenic valley where the Oirase Stream flows through verdant forest and cascades down picturesque waterfalls. It is regarded as one of the most beautiful nature spots in northern Japan. A gentle 14km hiking trail follows the course of the river, criss-crossing bridges and weaving between moss-covered boulders, allowing you to fully immerse yourself in the area's natural beauty, whether on foot or even by bicycle. A nearby road allows easy bus access, with stops at numerous points along the valley for those with more limited time. Stunning throughout the year, the gorge is particularly resplendent in the fall when the trees become a glorious canopy of reds, oranges and yellows — well worth timing your trip to see!
Shirakami Sanchi (2-star) – Discover Japan's largest remaining virgin beech forest
This wild and remote mountainous area is said to contain the last remaining large-scale virgin beech forest in East Asia and one of the largest such forests in the world. Situated on the border of Aomori and Akita prefectures, Shirakami Sanchi is a UNESCO World Heritage site but, perhaps due to its remoteness, rarely packed with tourists. Much of the park is strictly protected, but there are a number of short hiking trails which allow visitors to experience the amazing primeval forest ecosystem. These include the three waterfalls of Anmon Falls, the tallest of which towers to an impressive 50m (2 to 3hrs round trip). The longer Juniko ('twelve lakes') hiking trail visits Ao-ike, a mysterious and (on sunny days) mesmerizing cobalt-blue pond. The full hiking course takes a few hours, although Ao-ike is only a 10min walk from the parking lot. The area has a number of visitor centers and is accessible by public transport, although a car allows for more freedom when getting about.
Fujita Kinen Teien (1-star) – Peaceful Edo-style garden in historic Hirosaki
Hirosaki is a small city steeped in history, situated on the Tsugaru Plain in southwestern Aomori. It is most famous for its old castle – one of Japan's top cherry blossom viewing spots in the spring. Next door to the castle you can find Fujita Kinen Teien (Fujita Memorial Garden), an Edo-style Japanese garden created in 1991 to celebrate the 100th anniversary of Hirosaki becoming a city. Walking around its extensive and beautifully landscaped grounds you can admire the wonderful views and features, which include a large pond, waterfall and iconic red bridge. There are also Japanese and Western-style buildings with traditional tearooms and a small archaeology museum. The gardens are the perfect place to relax and unwind, or practice those photography skills! Open daily from mid-April to late November.
Zenrin-gai (1-star) – Explore Hirosaki's atmospheric temple area
The tree-lined Zenrin-gai is a long street near the southwest corner of Hirosaki Castle, and home to 33 sacred Zen temples. The second feudal lord Tsugaru Nobuhira relocated many of the temples here from other places in the Tsugaru region in 1610, to serve as a form of protection to the castle. Nowadays visitors can freely wander from temple to temple, including the impressive Choshoji, with its magnificent wooden Sanmon Gate at the far western end of the street. Enjoy strolling around and taking in the peaceful atmosphere of Hirosaki's most sacred neighborhood.
Nakacho Historic Quarter (1-star) – Step back in time in Hirosaki's old samurai district
Just a short hop north of the castle lies Nakacho Buke Yashiki, otherwise known as Hirosaki's samurai district. This compact and evocative area is packed with historic Edo-period samurai residences, four of which (Ito, Umeda, Iwata and Sasamori) are free to enter, allowing a fascinating glimpse into daily life during the samurai era. The district is also home to a number of old merchant's homes, including the enormous and lovingly-restored Ishiba Family Residence (100 yen entry), which is listed as an important cultural property and now also functions as a liquor shop!
Towada-Hachimantai National Park (1-star) – The best place to experience Aomori's wonderful lakes, mountains and natural beauty
This vast national park spanning Aomori, Akita and Iwate Prefectures covers two separate, but equally beautiful regions; the northern part includes Lake Towada, Oirase Gorge and the Hakkoda Mountains, three stunningly beautiful areas during any season, but especially popular in the fall. The park is a great destination for hiking enthusiasts, with trails suitable for all levels and abilities, and in the winter the Hakkoda Mountains are popular for snowshoeing and backcountry skiing. Those into more sedate activities should not miss the area's fantastic hot springs, including Sukayu Onsen with its nostalgic and huge Senjin-buro ('thousand-person bath') mixed-gender wooden bath. The southern part of the park is perfect for mountain lovers as it encompasses Mt. Hachimantai, Mt. Akita-Komagatake and Mt. Iwate, three of the most famous peaks in the north Tohoku region.
Lake Towada (1-star) – Relax among nature at Aomori's most scenic lake
One of Aomori's most popular nature spots and part of Towada-Hachimantai National Park, Lake Towada, or Towada-ko, is the largest crater lake on the island of Honshu, famed for its deep, dark-blue waters and scenic natural surroundings. The lake is largely undeveloped, but there are a few hotels dotted around the southern and western shores, making it a fantastic retreat if you want to unwind among the pristine sights and sounds of nature. Sightseeing boats ply the waters from spring until fall and offer the best views, and you can also try canoeing, camping and hiking. In the winter visitors can enjoy Lake Towada Winter Story Festival, an annual event held in February (exact dates vary every year). Featuring illuminations, snow sculptures, performances and stalls, a magical winter wonderland is created around the beautiful snow-covered lake. There is convenient bus access all year round from Aomori and Hachinohe, and Lake Towada is particularly popular in the autumn when people flock to see the amazing fall colors.