Eat and compare branded tuna in Aomori Prefecture!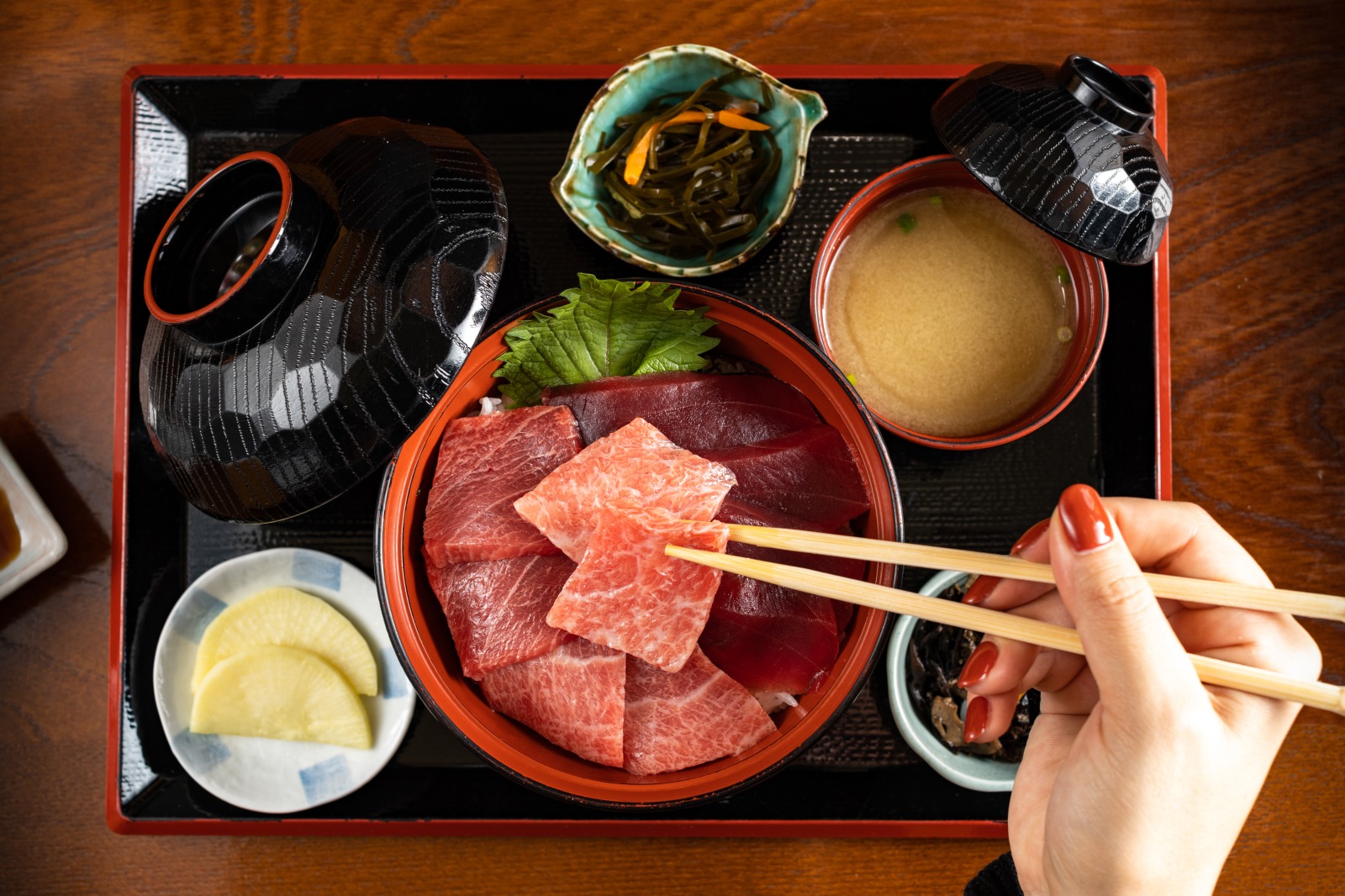 Oma's tuna is one of Japan's best-known brands of tuna.
Oma Tuna is known as the "black diamond," and its price is surprisingly high, but the fortunately reasonably priced when bought locally in Aomori Prefecture.
Did you know that the brand name of Oma Tuna changes depending on the port where it is landed and the time of year?
You can find not only Oma Tuna but also Fukaura Tuna and Sanmaya Tuna.
Let us take you on a journey to enjoy the deliciousness of all three types of Aomori tuna
Fukaura Tuna
The luxury of grilling fresh sashimi
Fukaura Town catches the most tuna in Aomori Prefecture.
The tuna in season is not overpowering and has a light and refreshing taste.
The "Fukaura Tuna Steak Bowl" was started in an effort to draw attention to Fukaura tuna.
It is served at six restaurants in Fukaura Town.
Here you can witness "Fukaura Tuna Steak Bowl" at Takumi-ya:
The special feature of Fukaura Tuna Steak Bowl is that you grill the Fukaura tuna yourself.
Try sashimi, grilled on one side, or grilled on both sides, and compare the different textures and tastes of the tuna depending on how it is grilled.
"Fukaura Tuna Burger" is also recommended and available at the Kazaise Kaigan Kaori no Ten.
Kazaise Kaigan Kaori no Ten is located right in front of Kazaise Beach.
Fresh tuna is used to make their 100% Fukaura Tuna hamburgers.
The size of the hamburger is similar to meat, but it is more refreshing to taste.
It is a local burger unique to Fukaura Town.
In addition to burgers, shakes are also popular at this restaurant.
The shakes are made with carrots, a local specialty, and are slightly orange in color with a gentle sweetness.
The hamburgers and shakes are exceptionally delicious, and you can enjoy them in the open air against the sea breeze.
Minmaya Tuna
Savor tuna with three types of sushi
Minmaya tuna is a super delicacy!
The "Tuna Zukushi Sushi Set" at Shu Sushi is the best way to enjoy "Minmaya Tuna".
This is a popular restaurant among those in the know, with customers coming from far and wide to enjoy the tuna.
The big, thick tuna on rice sushi is really delicious, and you can't help but think, "I've never had tuna sushi like this! I've never had tuna sushi like this!
The sushi is well-balanced, with five pieces of red meat, two pieces of medium fatty tuna, and two pieces of large fatty tuna, so you will never get bored.
Oma Tuna
A first-class, superb product that you must try at least once in your lifetime
Apples are the most popular specialty of Aomori. Next in line is Oma's tuna.
Tuna arrive in the Tsugaru Straits after a long journey from autumn to winter. In order to survive the cold season, the fish accumulate fat.
The tuna taste light until September, but from October to December, they are at their fattiest.
The best place to taste Oma tuna is at "Gyokui no Omaanzoku" in Omazaki.
The brother of the owner of this restaurant is a tuna fisherman.
The "tri-colored tuna rice bowl" with a large, sumptuous slice of tuna on top is an excellent dish.
You can enjoy three different flavors: red meat, medium fatty tuna, and large fatty tuna.
The "Tuna Karaage Set Meal" and "Stamina Set Meal" are popular among those who don't like raw food.
Deep-fried tuna is cooked to make it juicy.
The Stamina Set Meal is battered and grilled tuna.
It is as satisfying as meat, but you can still taste the original flavor of the tuna.
It is popular among both adults and children.
Another dish that must not be forgotten is "Riku Tuna".
In Oma Town, which is famous for its tuna, the "Riku Tuna" is actually the Japanese black-haired "Oma Beef"!
Oma Beef" is a brand of beef that is rated the highest.
It is grazed on steep mountain slopes to produce high quality beef, but because it is rare, it is only available locally.
At the Oma Onsen Kaikyo Recreation Center, you can enjoy the Oma Beef Sukiyaki Set Meal with Riku Tuna.
The sukiyaki, which contains a generous portion of Oma beef, will fill your mouth with the delicious taste of Oma beef.
From three port towns in Aomori Prefecture (Fukaura, Sanmaya, and Oma), we showed you the charm of Aomori tuna.
Please come and taste the true flavor of tuna.